Great things are happening in SA's national parks.
South Australia's national parks are wonderful places to visit and they're set to get even better.
National Parks and Wildlife Service South Australia is building new experiences, improvements and facilities across the state including world-class fossil and mountain-biking experiences, new multi-day walks, trails, roads, campgrounds, kayak launches and car parks.
What's happening?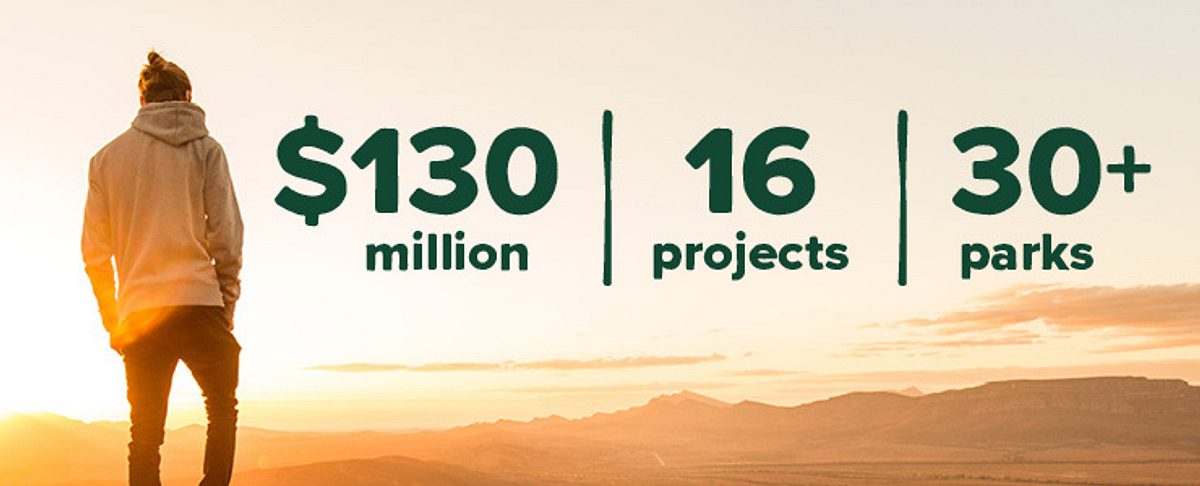 A number of these projects are part of Parks 2025, a strategy that aims to conserve our natural landscapes and wildlife, activate nature-based tourism, boost the state economy and strengthen local communities.
There are several exciting projects that will enhance parks across the state, including in Adelaide, on the Fleurieu Peninsula, Kangaroo Island, Eyre Peninsula, Yorke Peninsula and in the Flinders Ranges and Outback.
Find out more about what you can look forward to in a park near you:


Statewide initiatives

Nature-based Tourism Co-investment Fund: $5 million investment to assist the private sector to deliver sustainable, quality tourism experiences in the state's national parks, reserves, botanic gardens, and Crown land.
Statewide park renewal: $7.1 million investment to improve existing park facilities including improvements to signage, campgrounds, toilets, trails, roads and carparks, as well as improved accessibility for park visitors at day-visitor sites.
Community Access to National Parks projects : $1.5 million investment to give visitors easier access to some of Adelaide's popular park sites, including Morialta and Mark Oliphant conservation parks.
Adelaide and surrounds
Reinvigorating Cleland Wildlife Park: $1 million investment to create an exceptional nature-based visitor experience at Cleland Wildlife Park.
Creating Glenthorne National Park-Ityamaiitpinna Yarta: $12.5 million investment to preserve and revitalise 1,500 hectares of open space in Adelaide's southern suburbs and turn it into a thriving recreational and environmental precinct for the whole community.
Opening up our Reservoirs: $2 million investment to improve visitor facilities and recreational access to Barossa, South Para and Warren reservoirs.
Enhancing the Mount Lofty Precinct: $3 million investment to revitalise infrastructure at the much loved Botanic Gardens that neighbours the Mt Lofty Summit.
Fleurieu Peninsula
Creating the Wild South Coast Way on the Heysen Trail: $6 million investment to create a new multi-day walking experience on the Fleurieu Peninsula, which will provide an economic boost to the region and better connect the parks along the state's southern coastline.
Conservation and recreation in Hindmarsh Valley : $3 million investment to create a new national park that protects threatened native animals and plant species, and provides recreational opportunities for visitors, such as hiking and mountain-biking.
Flinders Ranges and Outback
Kangaroo Island
Yorke Peninsula
Eyre Peninsula
Improvements to parks on the Eyre Peninsula: $2 million investment to diversify the nature-based experiences on offer for visitors to the region.
How you can get involved
National Parks and Wildlife Service South Australia is committed to working in partnership with Traditional Owners, local and regional communities and community groups to bring these exciting projects to life.

As projects progress there will also be opportunities for you to get involved and share your thoughts. Visit the project webpages listed above to help shape an exciting era for South Australia's national parks.
More information
For more information or if you have any questions about how we are improving South Australia's national parks, please get in touch with us online.