One of Adelaide's last remaining coastal freshwater and estuarine lagoon systems, Aldinga Washpool is a well-known habitat for a wide range of native species, particularly birds and swamp plants.
The washpool is also of considerable spiritual and cultural significance to the Kaurna people including significant archaeological sites.
The washpool spans a number of land tenures, owned by various government agencies including the City of Onkaparinga, SA Water, the Department for Environment and Water and the Minister for Planning and Local Government. The various owners have worked collaboratively for a number of years to realise conservation and management outcomes.
The community has long expressed a strong desire for the land to be protected from development and for the cultural and environmental values to be protected and restored. In recognition of this, the relevant agencies have been working to consolidate tenure to allow protection of the land under the National Parks and Wildlife Act 1972.
SA Water is transferring approximately 32 hectares of land to the Department for Environment and Water because of its conservation importance.
The SA Water land will be combined with the adjacent Aldinga Scrub Conservation Park to create a new conservation park and when complete, the total area of land will be about 340 hectares.

Map of the proposed new conservation park in Aldinga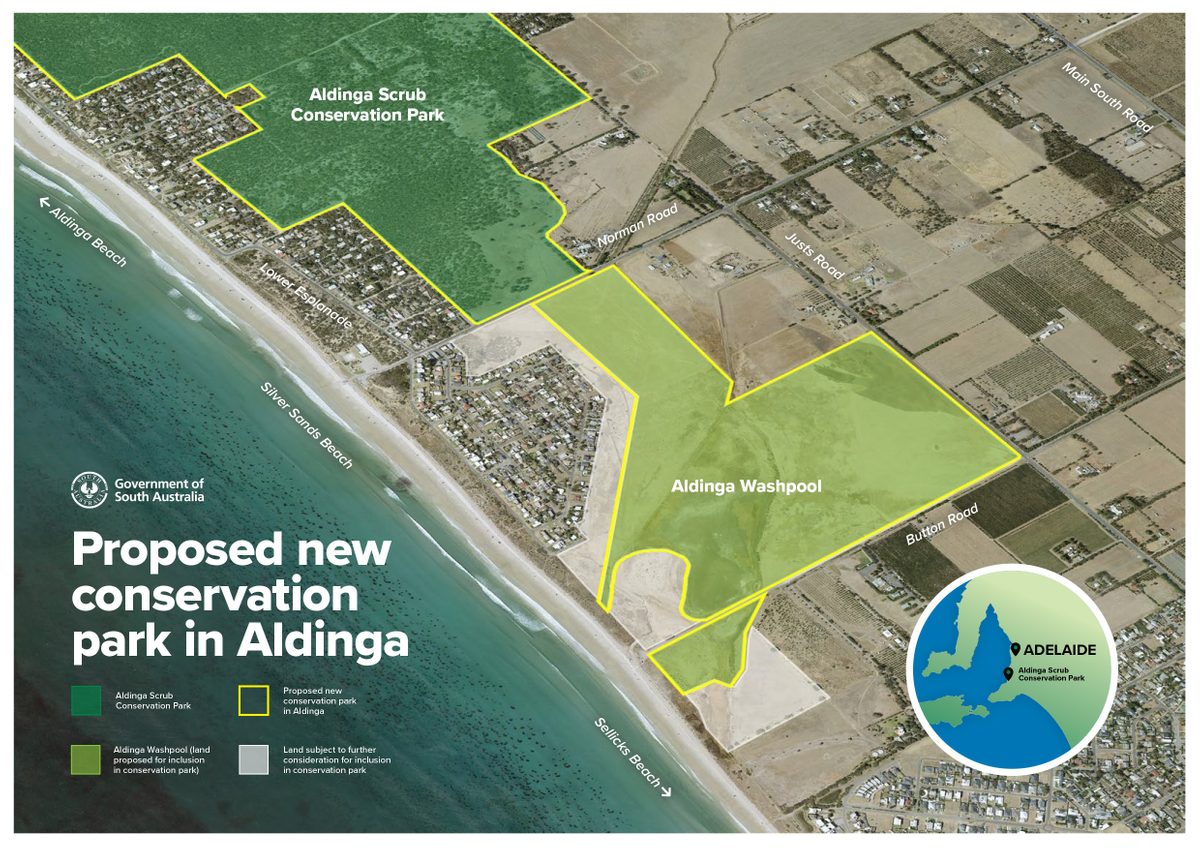 Download Aldinga Washpool map (PDF, 517KB)
Frequently asked questions
Where is the washpool?
The Aldinga Washpool is near Silver Sands Beach approximately 50 kilometres south of Adelaide.

How big will the park be?
The washpool land will be combined with the adjacent Aldinga Scrub Conservation Park to create one new conservation park of about 340 hectares.
How can the community become involved in the park's future?
A planning process with local communities will commence next year and will consider the future management of the park and also consolidate hydrological, ecological and cultural work done so far.