Ranger tips: Ikara-Flinders Ranges National Park
---
---
Get insid­er tips on the best places to vis­it and ​'must do' activ­i­ties from park ranger James Skinner.
---
Locat­ed about a 5 hours' dri­ve north of Ade­laide in the cen­tral Flinders Ranges, Ikara-Flinders Ranges Nation­al Park is home to ancient and rugged moun­tain land­scapes, peace­ful tree-lined gorges and a wealth of wildlife.
The spec­tac­u­lar scenery has to be seen to be believed, espe­cial­ly the icon­ic Wilpe­na Pound that lies at the heart of the park.
There's plen­ty to expe­ri­ence with the rich cul­tur­al his­to­ry, native wildlife, impres­sive geo­log­i­cal land­marks and lots of activ­i­ties on offer includ­ing camp­ing, bush­walk­ing, four-wheel dri­ving, bird­watch­ing, pho­tog­ra­phy and moun­tain biking.
With so much to see and do, we've asked Park Ranger James Skin­ner for some tips for your next vis­it. Here's what he had to say:
How many days should vis­i­tors spend in the park?
It's a big park with plen­ty to see and do. You real­ly need at least two full days to expe­ri­ence the best of the park.
There are plen­ty of trails for bush­walk­ers and cyclists, spec­tac­u­lar dri­ves through rugged gorges, and so much to explore and see for the wildlife enthusiast.
There are 10 camp­grounds dot­ted around the park includ­ing some in the spec­tac­u­lar Brachi­na Gorge. All of the camp­grounds have a toi­let facil­i­ty and are per­fect for those want­i­ng to con­nect with nature.
If you're look­ing for a lit­tle more lux­u­ry, there are lots of accom­mo­da­tion options at Wilpe­na Pound Resort, includ­ing hotel style rooms, pow­ered camp­sites and glamp­ing tents.
Top tip: Nation­al parks camp­sites must be booked before you arrive at the camp­ground. Book online or through a book­ing agent to reserve your campsite.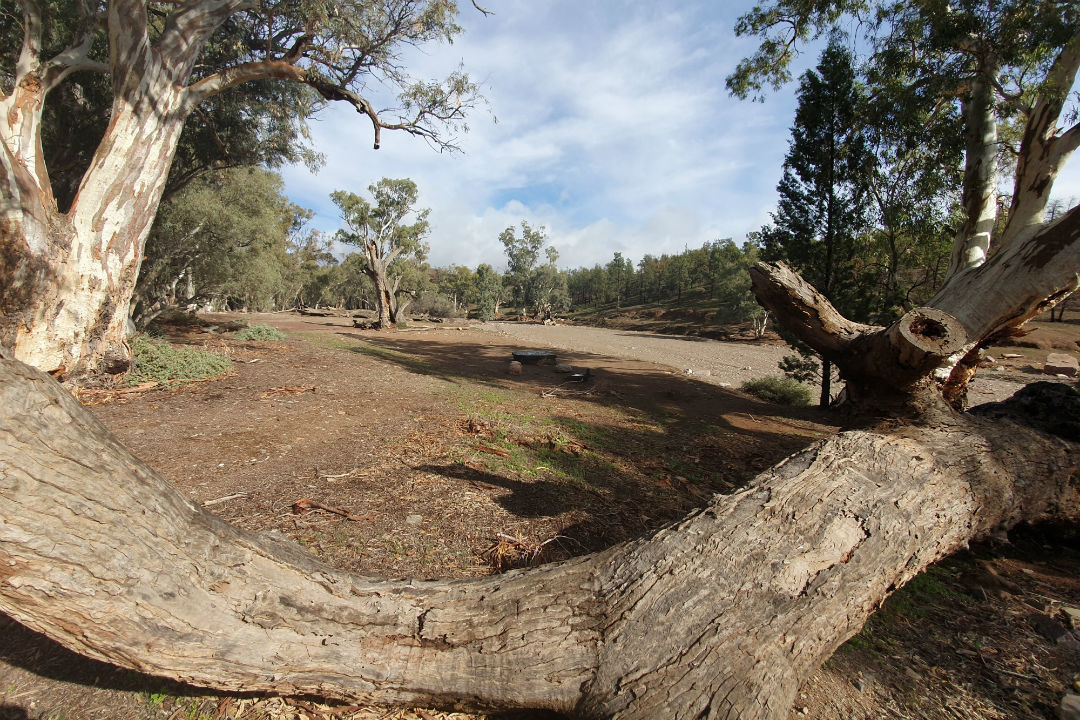 What's your favourite campground?
Wil­co­lo Camp­ground is nes­tled between the Hey­sen and ABC Ranges and offers stun­ning views of the crag­gy rock escarp­ments of Wilpe­na Pound. Dusk and dawn are the best times to enjoy the con­trast­ing colours of the ranges against the big open sky.
This seclud­ed camp­ground sits among native pines, riv­er red gums and wat­tles, and is only acces­si­ble to hik­ers and cyclists trav­el­ling on the Hey­sen and Maw­son Trail routes (there's no access by car).
Wil­co­lo Camp­ground is a short dis­tance from some of the park's main attrac­tions, such as the Old Wilpe­na Home­stead, the Cazneaux Tree and Wilpe­na Pound.
Top tip: If you have a four-wheel dri­ve (4WD) vehi­cle, book one of the ​'4WD only' camp­sites for a more seclud­ed camp­ing experience.
Do I need a
4WD

to get around the park?

Gen­er­al­ly, a two-wheel dri­ve car is suit­able to explore the park, how­ev­er vis­i­tors should be aware that most roads in the park are unsealed and, with some­times rough sur­faces, may be a con­cern for vehi­cles with low clearance.

At times, after rain, roads might only be suit­able for 4WDs or might be tem­porar­i­ly closed. You can eas­i­ly check online to see the local road con­di­tions before you go.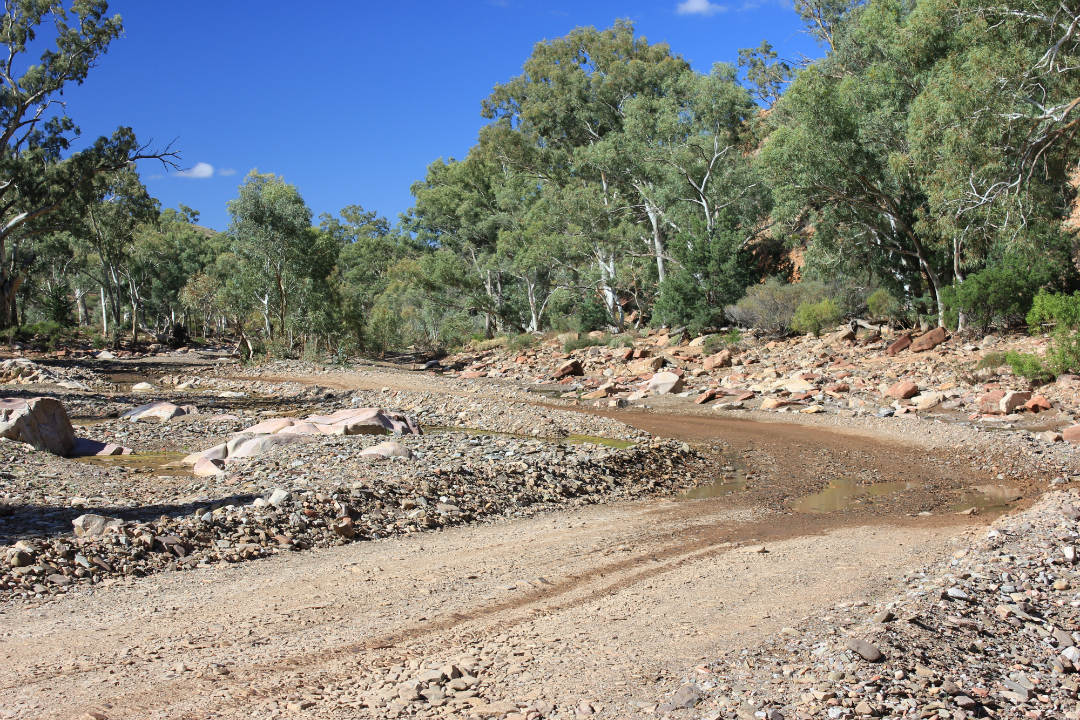 Where can you expe­ri­ence Abo­rig­i­nal culture?
The Adnya­math­anha peo­ple (mean­ing hills or rock peo­ple) are the Tra­di­tion­al Own­ers of the Ikara-Flinders Ranges Nation­al Park and their con­nec­tion with the land stretch­es back many thou­sands of years. The park pro­vides great oppor­tu­ni­ties to immerse your­self in their culture.
Per­awurtina and Sacred Canyon are cul­tur­al­ly sig­nif­i­cant sites where ancient rock engrav­ings can be admired. Sacred Canyon can only be vis­it­ed on an organ­ised tour with an Adnya­math­anha guide from Wilpe­na Pound Resort, so make sure to book a spot.
Top tip: Wilpe­na Pound Resort also offers Abo­rig­i­nal Cul­tur­al Tours includ­ing a ​'Wel­come to Coun­try – Adnya­math­anha Yarta', which is a free activ­i­ty held every evening at 4:30 pm in front of the resort recep­tion area.
What's your favourite walk­ing trail in the park?
The Boom and Bust Walk­ing Trail is a great short hike suit­able for most peo­ple, includ­ing chil­dren. The 2 km loop runs along Wilpe­na Creek and incor­po­rates inter­pre­tive sig­nage explain­ing how plants and ani­mals in the area have adapt­ed to survive.
For more expe­ri­enced hik­ers, Tander­ra Sad­dle, along the St Mary Peak Loop Hike, offers great views of the Hey­sen Range stretch­ing into the horizon.
Like all of our long-dis­tance hikes, make sure you are well pre­pared and let some­one know of your intend­ed journey.
Top tip: Down­load the free Aven­za Maps app on your smart­phone or tablet to access inter­ac­tive nation­al park maps at any time. The app can be used with­out a net­work con­nec­tion and with­out roam­ing charges, offer­ing your real-time loca­tion with­in the park using your device's in-built GPS.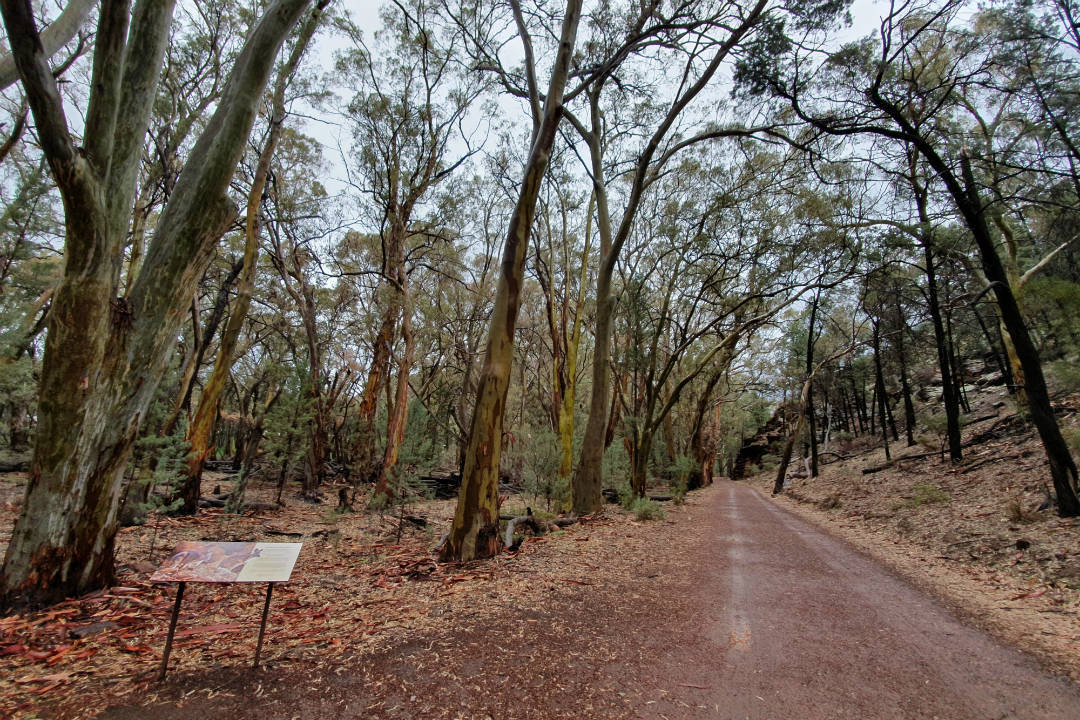 When's the best time to vis­it the park?
Spring is a great time to vis­it the Flinders Ranges. Gen­er­al­ly the days are warm and clear – per­fect for bush­walk­ing and explor­ing the park. Plus, wild­flow­ers are like­ly to be in bloom, though the abun­dance and tim­ing of wild­flow­ers depends entire­ly on recent rainfall.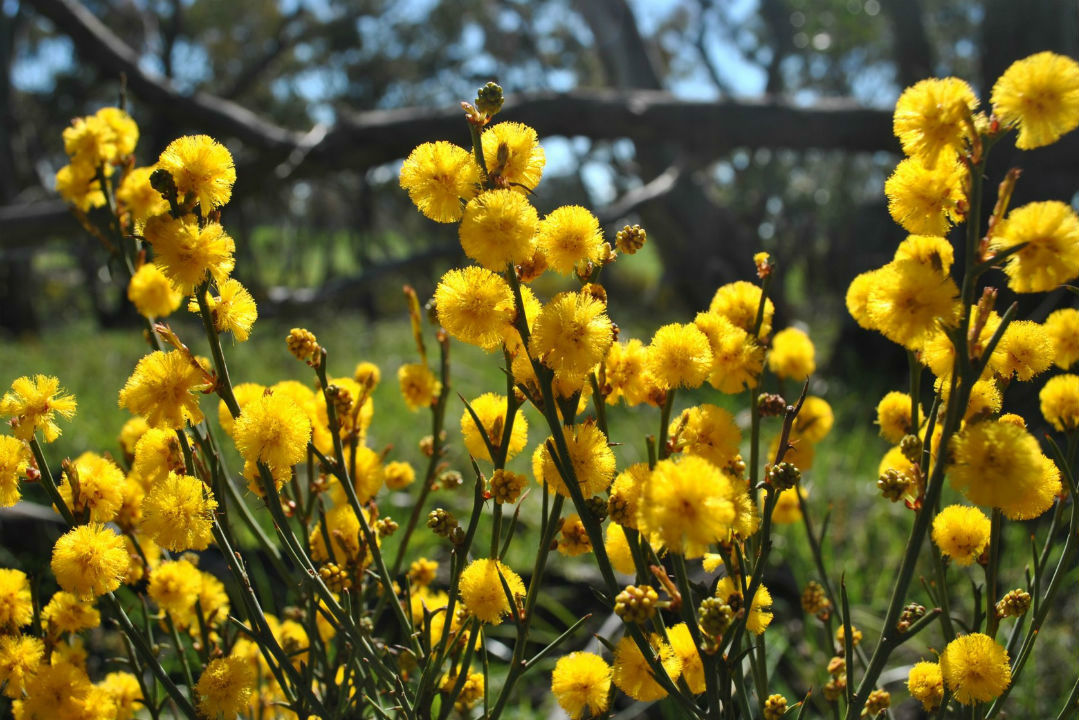 What's the park's best kept secret?
Brachi­na Gorge is a spec­tac­u­lar loca­tion with icon­ic geo­log­i­cal fea­tures, but it is also home to a colony of yel­low-foot­ed rock wal­la­bies ('andu' in the Adnya­math­anha lan­guage). These wal­la­bies can be seen through­out the gorge, but late after­noon is the best time to spot them.
Top tip: Take a torch out at night to spot a west­ern quoll or brush­tail pos­sum ('idnya' and ​'virl­da' respec­tive­ly in Adnya­math­anha language).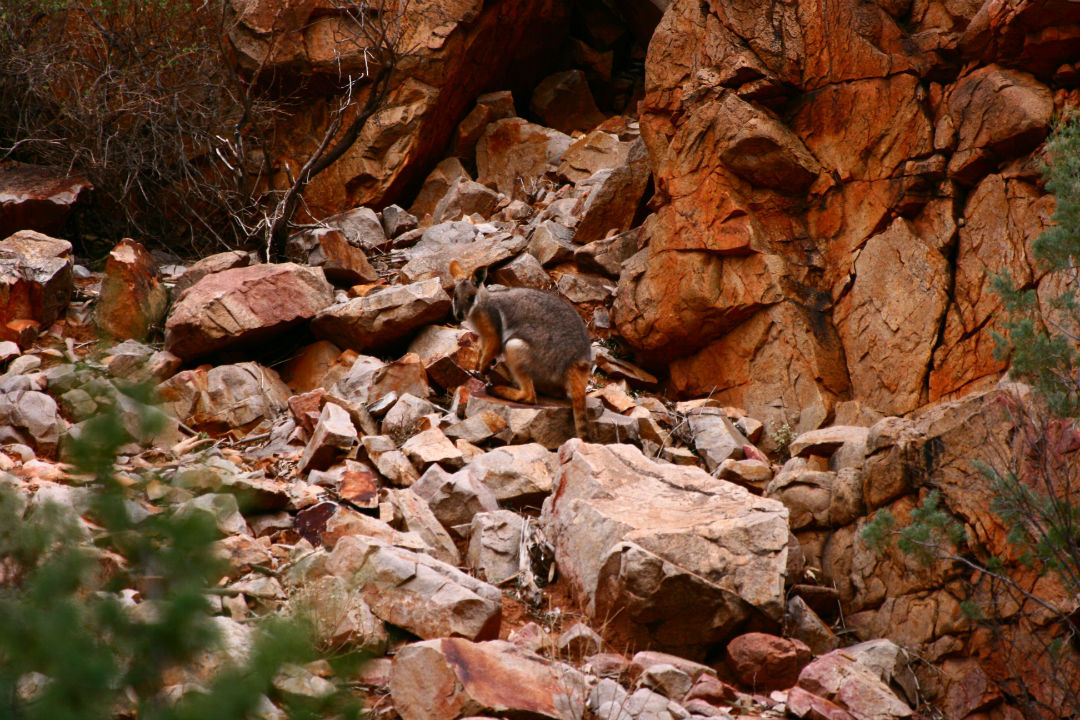 Park of the Month
Through­out the month of July, Ikara-Flinders Ranges Nation­al Park is being cel­e­brat­ed as one of Nation­al Parks and Wildlife Ser­vice's Parks of the Month.
There are heaps of events and activ­i­ties to get involved in to help you explore the park. Check the web­site for all the details.
Main image: Ranger James Skinner
---
This con­tent was pro­duced in part­ner­ship with Good Living
Subscribe to get more insider tips delivered to your inbox each month