Your guide to visiting mound springs in South Australia's desert parks
The cooler part of the year is the perfect time to visit mound springs in SA's desert parks. Here's where to go.
Mound springs are true oases in the desert, providing a lifeline for people and animals alike.
Dalhousie Springs, in South Australia's far north-east, is made up of 148 separate springs, all fed by theGreat Artesian Basin, a massive underground water source that flows under nearly a fifth of the country.
The springs have been flowing here for between one and two million years and are home to a huge diversity of faunafound nowhere else on the planet.
Of great cultural significance to local Aboriginal people, these springs have been the only reliable permanent watersources in the arid outback since humans first arrived in the region.
Mound springs take their name from the distinctive mounds that build up around some springs. With water flowing fromthe top of the mound and out onto the surrounding plains, they form a truly surreal landscape.
Springs can be fresh or salty, and can be warm or even hot, as the water comes from deep underground where it isheated by the earth's mantle and high pressures.
To experience them for yourself, check out these two parks:
1. Witjira National Park
Located 887 kilometres north-west of Port Augusta is Witjira National Park.
It's here that you'll find Dalhousie Springs' Main Pool, which ismore than 160 metres long, 60m wide, and reaches a depth of nearly 12m.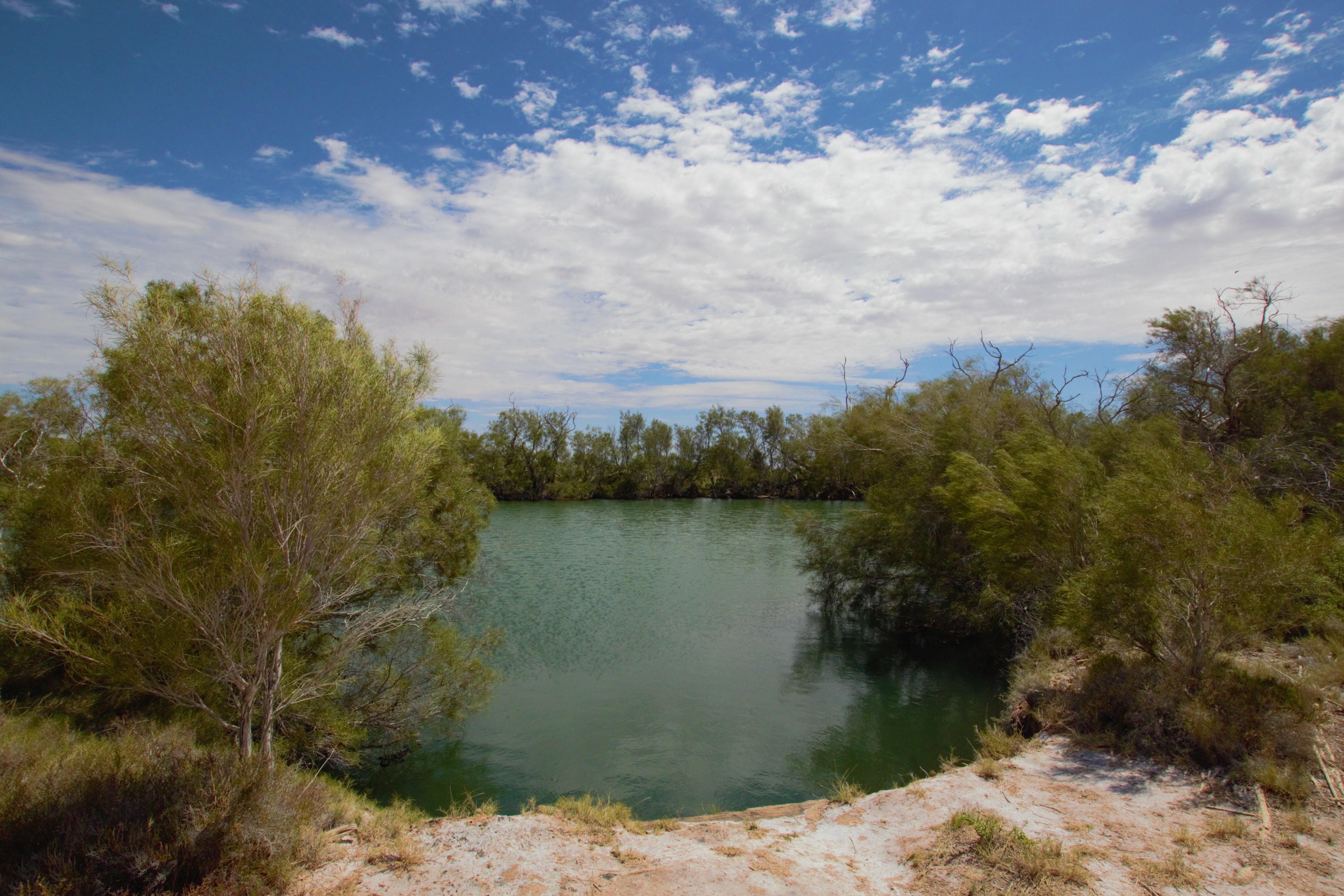 The water is 42 degrees where it wells from underground, cooling to a pleasant 36-38 degrees at the surface andmaking it a wonderful place to revive and wash off the desert grit – so long as you don't use soap orshampoo, as this can harm the ecosystem.
2. Wabma Kadarbu Conservation Park
The most iconic mound springs are found in Wabma Kadarbu Conservation Park, 450km down the Oodnadatta Track.
Here you'll find Thirrka (or Blanche Cup) and Pirdali-nha (or The Bubbler).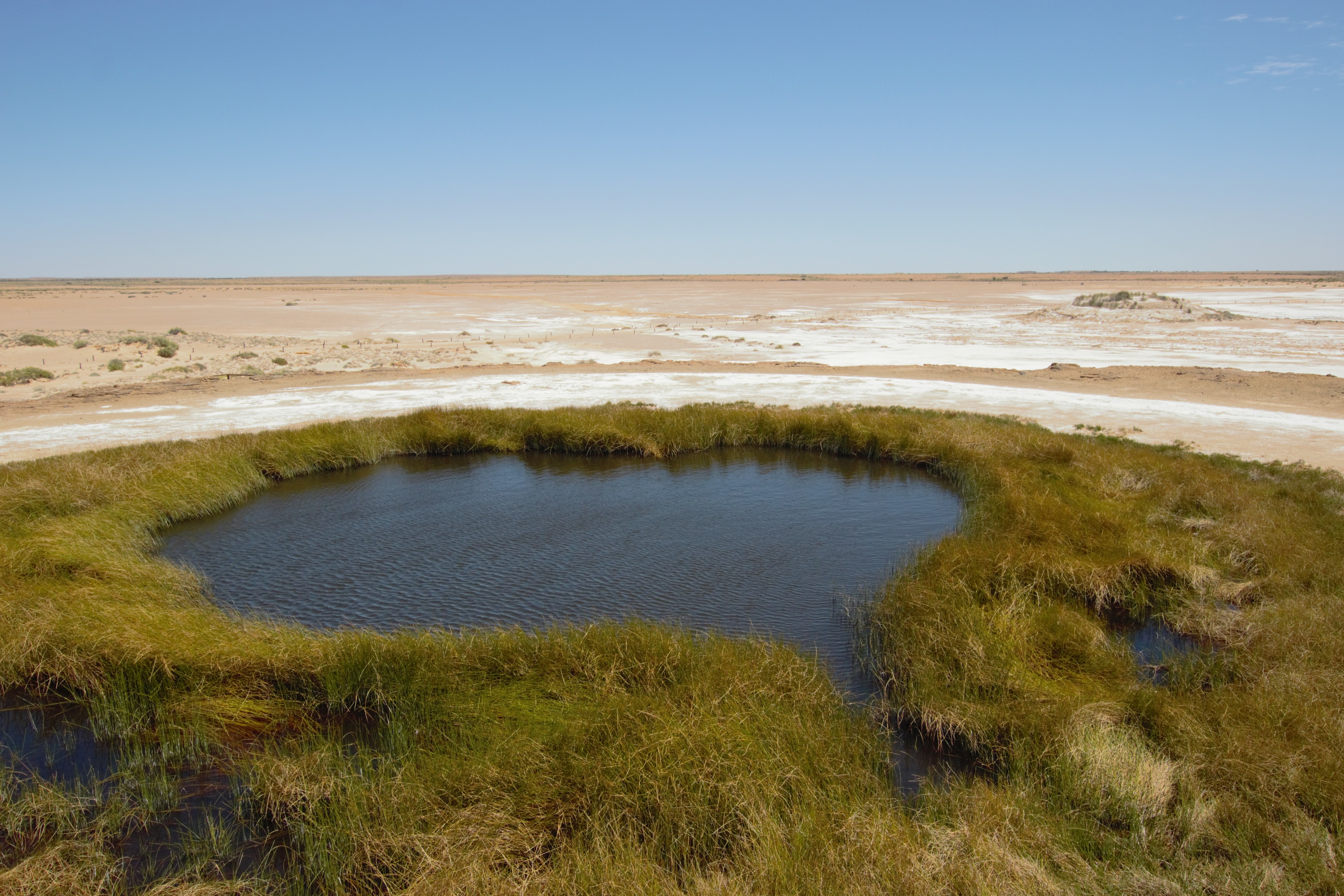 Pirdali-nha takes its European name from the regular bubbles that pop to the surfaceas the water wells up. The main pools and overflows at both springs are ringed by lush, green sedges.
Nearby is Wabma Kadarbu (or Mt Hamilton), which translates as 'snake's head' and is actually anextinct mound spring that is central to the Arabana creation story for this site.
Unlike the Main Pool at Witjira National Park, swimming is not allowed at these hot spots.
Species of the springs
Due to the stable nature of the spring ecosystems and the isolation caused by the drying of inland Australia, moundsprings are home to many species that live nowhere else.
Across the Great Artesian Basin, there are more than 90 species that are endemic to springs, with more than half ofthose found in SA's mound springs.
Dalhousie alone has 16 endemic species, including five fish, snails, a yabbie and other crustaceans.
Remember to check out the latestinformation before you head off, including details about fees, safety, fire information and facilities.For these parks, plus many others, you'llneed to book your vehicle entry, camping or accommodation online before you leave home.
Main image: Main Pool at Dalhousie Springs
This story was originally posted in July 2017.
Comments
Log in to Disqus, Facebook, Twitter or Google to make a comment. If you would prefer not to log in you can still make a comment by selecting 'I'd rather post as a guest' after entering your name and email address.
This commenting service is powered by Disqus. Disqus is not affliated with the Department for Environment and Water