How to spend a day in South Australia's Onkaparinga River parks
Want to make the most of your visit to these local gems? We've got you covered with this one-day itinerary.
Located within an hour's drive of Adelaide's CBD, Onkaparinga River national and recreation parks are hidden gems of the south.
The rugged and spectacular Onkaparinga Gorge could be easily mistaken for the Flinders Ranges, and the peaceful waterways and wetlands of the Onkaparinga River as it nears the sea is a paradise for birdlife and perfect for experiencing by kayak.
There's so much on offer, so we've asked District Ranger Steve Johnson to help us out with planning the perfect day in Onkaparinga River National Park and Onkaparinga River Recreation Park.
Here's his itinerary:
Morning
There's no better way to start the day than a peaceful paddle or walk to explore the Onkaparinga River and wetlands.
Make your way to Perry's Bend Reserve on River Road, Noarlunga Downs. The reserve offers car parking and has a picnic area with toilets, a barbeque and shelter. It is also a popular fishing spot to try for bream, mullet or an elusive big mulloway.
If you're lucky enough to have a kayak, the purpose-built kayak launch facility at the reserve makes it easy to access the water.
You have the choice of paddling up-stream through the middle of Onkaparinga River Recreation Park or downstream towards the river mouth at Port Noarlunga. If you don't have a kayak, they can be easily hired from the local area.
If you're up ship creek without a kayak, you can still explore this area of the park on foot or by bike with the Wetlands Loop Trail.
Leaving from Perry's Bend Reserve, the trail follows the river where you'll see a variety of birds going about their business.
The trail can be done either as a short or long loop and includes a boardwalk through the wetlands. Keep an eye out for kangaroos – they're commonly spotted in this area.
Dogs are welcome in the Onkaparinga River Recreation Park, so they can join you on this walk. Just remember they need to be on a lead (2 m or shorter) at all times.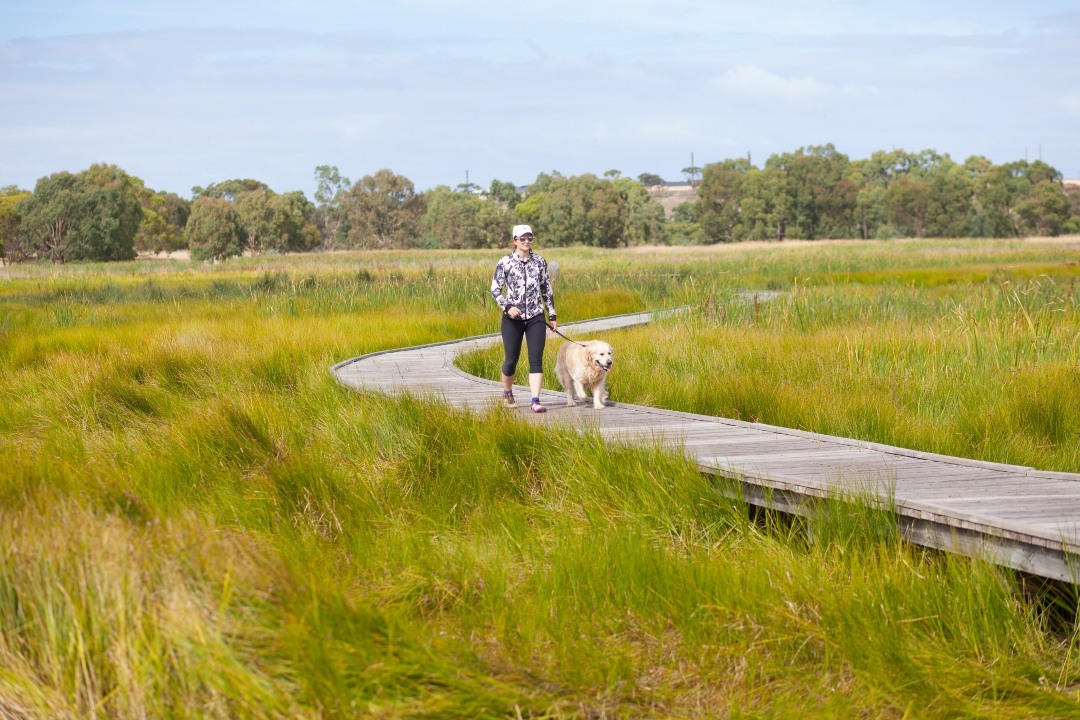 Lunch
After your morning paddle or walk you'll have quite the appetite so why not take a picnic to the spectacular Punchbowl Lookout.
To get there, make your way to the carpark situated on Piggott Range Road, Onkaparinga Hills, and it's about a 20-minute walk or 5-minute ride from there. The compacted rubble Punchbowl Lookout Trail provides good access for prams and wheelchairs too.
The trail meanders through grey box and sheoak woodland and there's a picnic setting just before you arrive at the lookout.
The lookout boasts the best views of Onkaparinga Gorge and overlooks the tranquil Punchbowl Waterhole. Look for yellow-tailed black cockatoos, peregrine falcons and the majestic wedge-tailed eagles as you admire the view.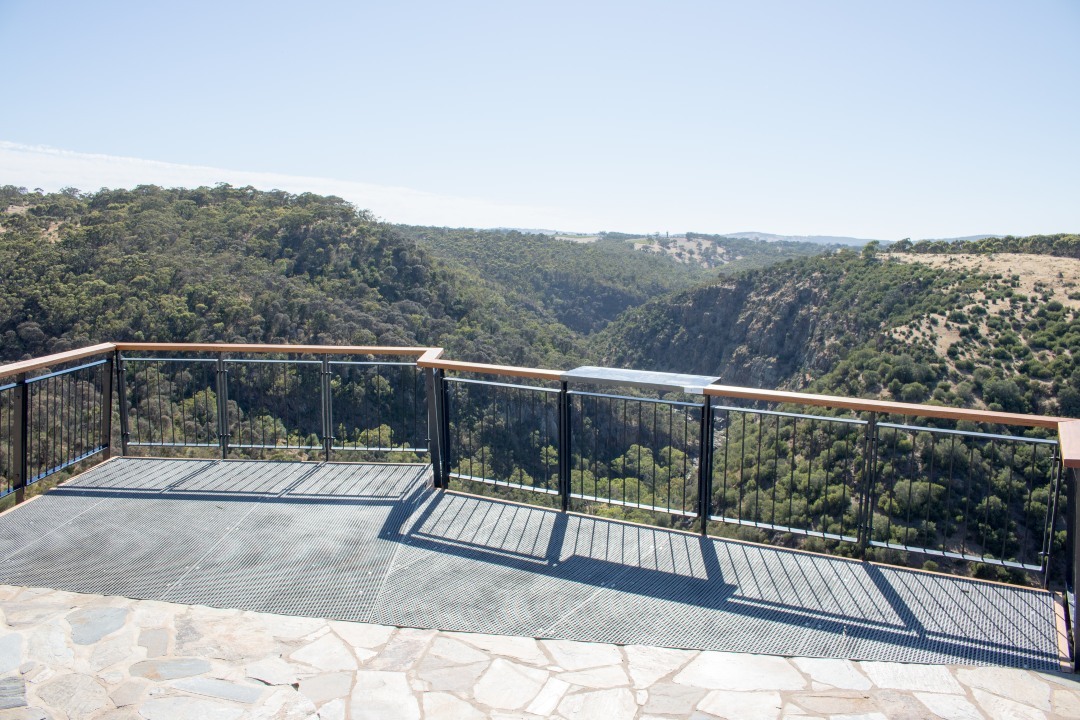 Afternoon
After lunch it's time for more adventure – this time on your mountain bike.
From the Punchbowl Lookout you can begin the 6 km Punchbowl Link Trail. This shared-use loop trail follows the boundary fire track up to the Sundews Trailhead and then tracks along ridge contours overlooking the gorge through the beautiful woodlands and grasslands of Onkaparinga River National Park.
There's so much to see as you negotiate cool sections of trail, including tight turns, rocky outcrops and creek crossings.
Once you've had your fix of mountain biking, head back at the lookout for a well-earned breather. If you don't have a bike the trail is just as good on foot.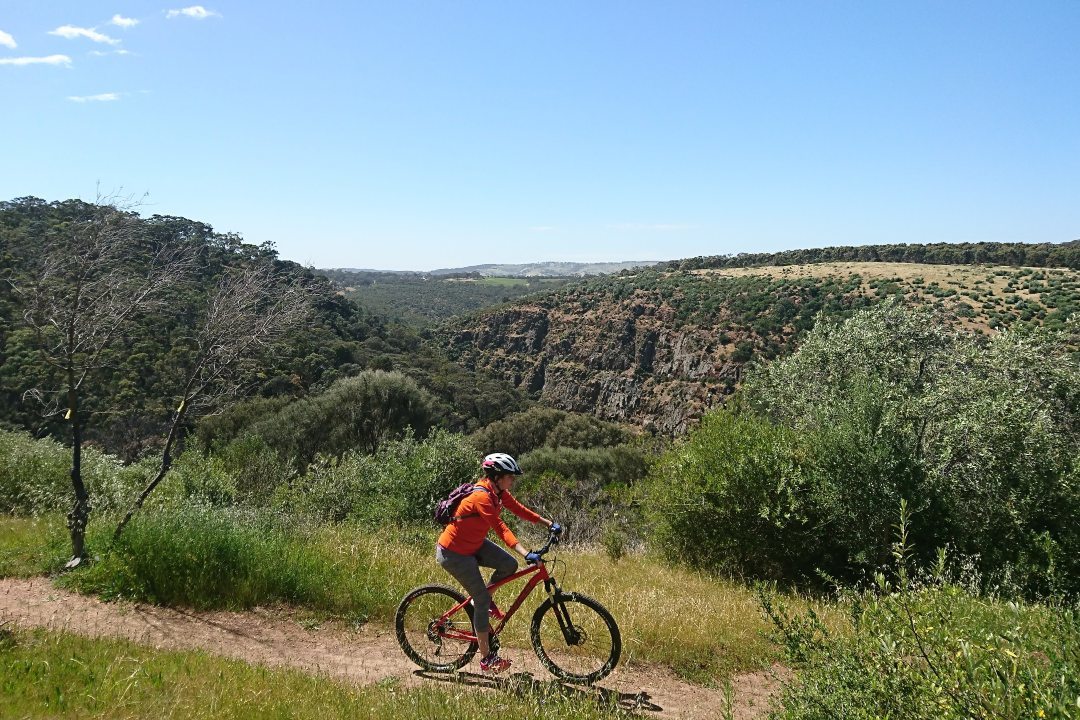 Evening
Take in the peaceful tranquillity of the of the Onkaparinga River waterholes via the River Hike, which starts on the southern side of the gorge on Chapel Hill Road at the Gate 15 car park.
The hike features spectacular views of the gorge and is an easy hike right down into the gorge.
Once you drop down to the river bank, take a short walk upstream to see colourful ancient rock formations, big river red gums and peaceful waterholes full of aquatic life.
Once you've finished exploring, head back up along the River Hike to return to the carpark. The River Hike is rated as a hard hike that will take about 2.5 hours to complete, so before you set off make sure you have enough time to return in daylight.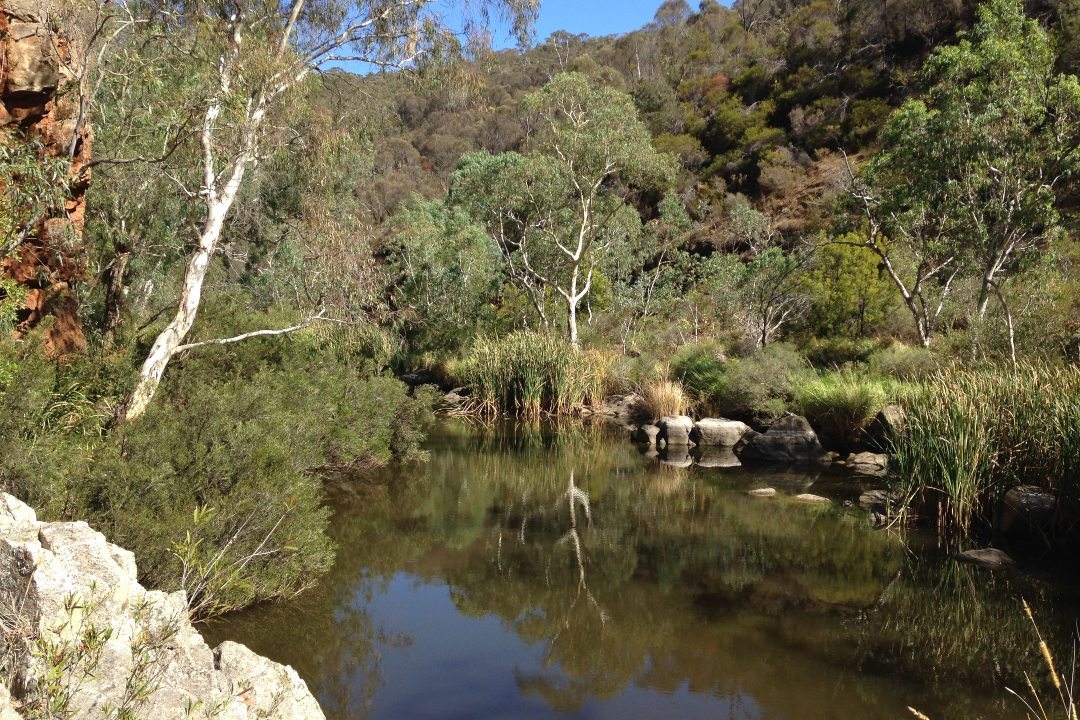 Overnight
If you've got time, why not stay the night at the peaceful Pink Gum Campground, which is set amongst pink gum and grey box woodland.
The campground is very close to the River Hike – in fact, you can begin the hike from the campground.
Campsites can be booked online and are suitable for tents right through to large caravans and RVs. Facilities include a flushing toilet and a washing-up area.
Outside of fire danger season you can have a campfire and toast marshmallows on the handy fire pits provided on each site.
There's lots of wildlife around the campground. Listen out for the lovely calls of the boobook owl during the night.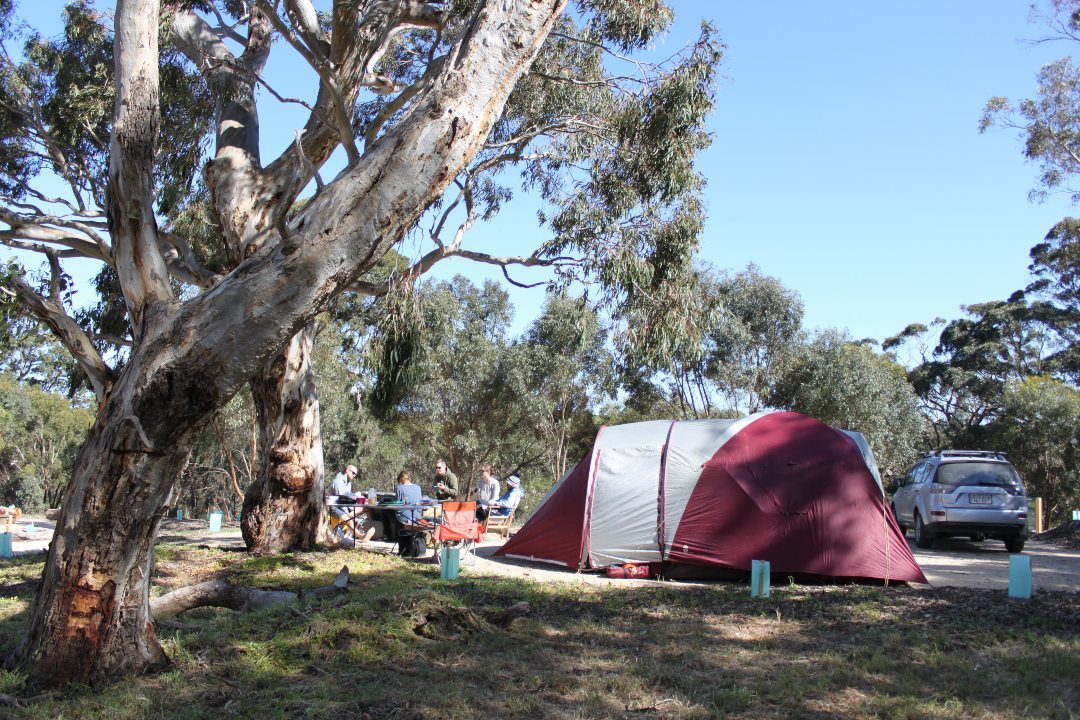 Want some extra tips for your next visit? Find out what District Ranger Steve Johnson recommends.
This story was originally posted in February 2020.

Comments
Log in to Disqus, Facebook, Twitter or Google to make a comment. If you would prefer not to log in you can still make a comment by selecting 'I'd rather post as a guest' after entering your name and email address.
This commenting service is powered by Disqus. Disqus is not affliated with the Department for Environment and Water