How to unlock new walking trails in SA's national parks using Avenza Maps
---
---
You can use GPS tech­nol­o­gy to dis­cov­er trails in nation­al parks – even with­out a net­work con­nec­tion. Find out how.
---
Look­ing for a walk­ing trail near you in South Australia's parks and reserves? Or maybe your usu­al spot is some­times too crowd­ed to prac­tice social dis­tanc­ing and you want to explore some­where new?
There's an app that can help with that. Offi­cial maps from Nation­al Parks and Wildlife Ser­vice South Aus­tralia (NPWS­SA) are avail­able on Aven­za Maps.
The maps are geo­ref­er­enced, so once you've down­loaded the app and installed your map, they work with your smartphone's inbuilt GPS to plot your real-time loca­tion with­in the park on the map.
You can use the app with­out a net­work con­nec­tion, allow­ing you to stay safe and aware of where you are – which is par­tic­u­lar­ly handy in hills parks that are often just out of net­work range.
How it works
The Aven­za Maps app uses your device's built-in GPS to locate you even when you are out of range of a net­work or inter­net connection.
A blue dot fol­lows you wher­ev­er you are with­in the park so you always know where you are on the map. You can then zoom in and out, nav­i­gate from place to place, mark points of inter­est and attach pho­tos exact­ly where they were taken.
So if you're a reg­u­lar park vis­i­tor you can mark the walk­ing trails you've already done and locate any new ones you've yet to con­quer. And for the fit­ness enthu­si­ast, you can even see pro­files of your speed and ele­va­tion change dur­ing your journey.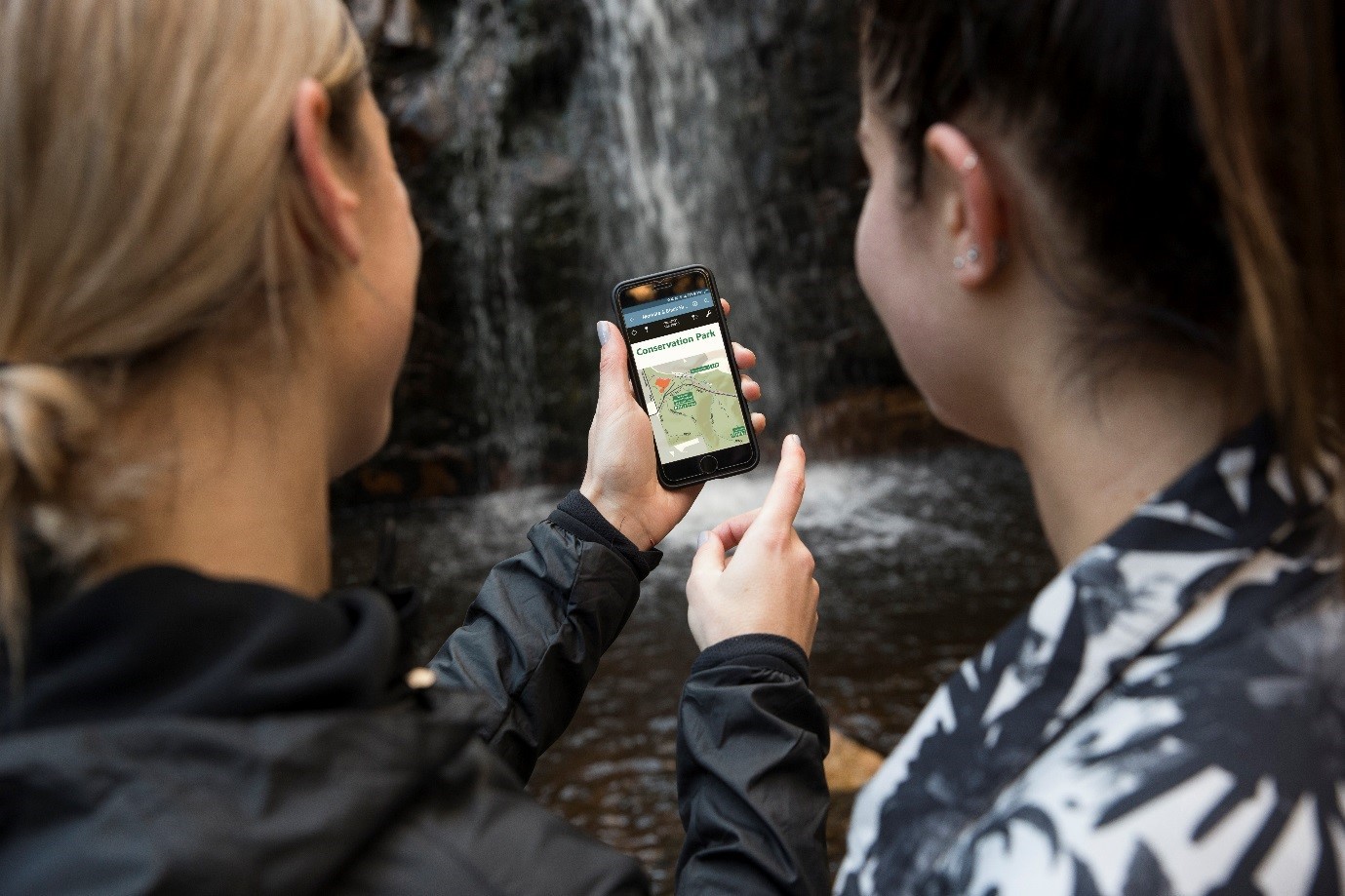 Using the app
Down­load the Aven­za

PDF

Map from the app store while you are still in range (its free!).
Open the app and click the shop­ping cart icon.
Type the name of the nation­al park or reserve you are look­ing for in the search bar and click search.
Click on the map you are after and install it. All the maps pro­duced by

NPWS­SA

are free, how­ev­er, you may wish to pur­chase oth­er maps through the app.
You will now find a list of your installed maps on the home page
Use park maps through the app while in the park and nev­er take a wrong turn again!
Start your journey
So now you have all the tech­nol­o­gy you need to find a nation­al park, locate impor­tant land­marks and walk­ing trails and stay safe, all with the help of your smart phone.
Just make sure your phone is ful­ly charged before you start your hike!
Remem­ber: When vis­it­ing parks dur­ing the COVID-19 pan­dem­ic, stick to parks near you, stay up to date with gov­ern­ment guide­lines about social dis­tanc­ing and move­ment restric­tions and use com­mon sense about who you vis­it with.
In the cur­rent cli­mate of social dis­tanc­ing,read how you can do the right thingwhile still enjoy­ing nature in our nation­al parks.
---
This con­tent was pro­duced in part­ner­ship with Good Living
Subscribe to get more insider tips delivered to your inbox each month