Guided tours app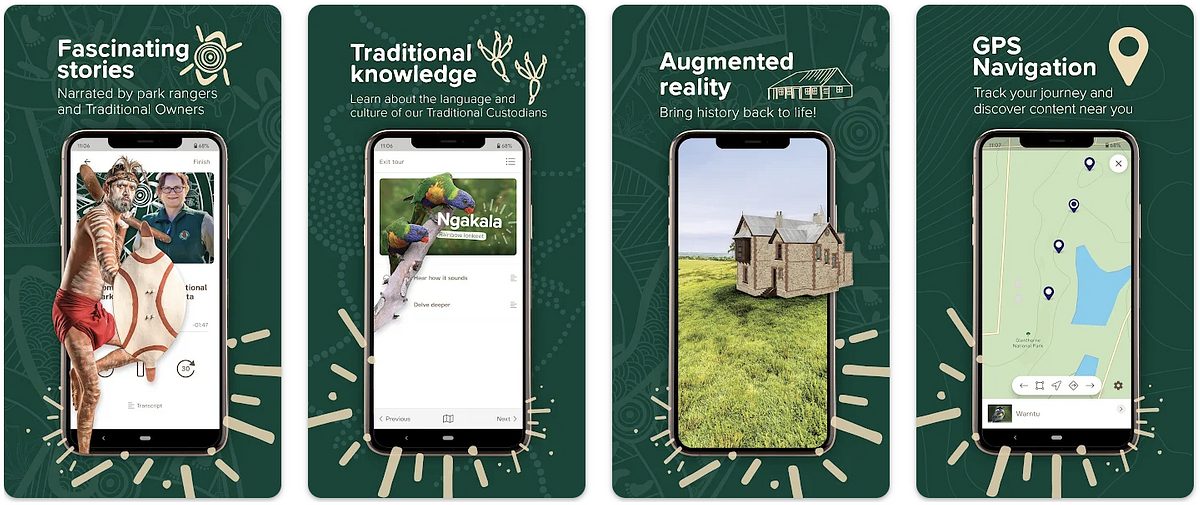 Be your own tour guide
Down­load our SA Nation­al Parks Guid­ed Tours mobile app today:
Be your own tour guide in South Australia's nation­al parks with the help of local rangers, Tra­di­tion­al Own­ers and our inter­ac­tive tour maps.
The SA Nation­al Parks Tours app brings you immer­sive, self-guid­ed tours that reveal the best sights, expe­ri­ences and local knowl­edge for select nation­al parks and walk­ing trails in South Aus­tralia.

Dive into fas­ci­nat­ing audio sto­ries nar­rat­ed by Tra­di­tion­al Own­ers and park rangers, get to know local plants and ani­mals through unique field guides, lis­ten to and prac­tice tra­di­tion­al lan­guage, and learn about the her­itage of our state's parks – includ­ing bring­ing his­to­ry back to life through aug­ment­ed reality!
Our inter­ac­tive tour maps will get you to where you need to go – so grab your pack and let's get exploring!
Parks now included
Glen­thorne Nation­al Park-Itya­mai­it­pin­na Yarta
Wild South Coast Way on the Hey­sen Trail (Deep Creek Nation­al Park, New­land Head Con­ser­va­tion Park and Bal­la­parud­da Creek Recre­ation Park)
Com­ing soon
Brachi­na Gorge, Cor­ri­dor Through Time Trail (Flinders Ranges-Ikara Nation­al Park)
Dhil­ba-Guu­ran­da Innes Nation­al Park
Fea­tures
Fas­ci­nat­ing sto­ries
Get the inside scoop from a park ranger, or learn about the lan­guage and cul­ture of Tra­di­tion­al Owners.
Works offline
No data con­nec­tion need­ed while tak­ing a tour. Down­load your select­ed tour over WiFi or cel­lu­lar data before arriv­ing at the park.
Plays auto­mat­i­cal­ly
The app knows where you are and the direc­tion you are head­ing, and auto­mat­i­cal­ly plays con­tent to help you explore what's before you. Sim­ply enable ​

'

Noti­fi­ca­tions' and ​

'

Loca­tion Ser­vices' on your device for this function.
Go your own way
No sched­uled tour times, no crowd­ed groups, and no rush to move past stops that inter­est you. You have total free­dom to skip ahead or linger – let­ting you explore your favourite park or trail your way.
Quick tips
Many parks are out­side of cel­lu­lar data range. To ensure you can access con­tent when you're on park, be sure to down­load the tours you need with­in the

SA

Nation­al Parks Tours app before arriving.

GPS

run­ning in the back­ground can decrease bat­tery life. You can eas­i­ly opt out of the

GPS

track­ing fea­ture by select­ing ​

'

Don't allow' when prompt­ed, or open­ing ​

'

Loca­tion Ser­vices' under ​

'

Set­tings' on your device.
Abo­rig­i­nal and Tor­res Strait Islander read­ers are advised that con­tent on this app may con­tain images and voic­es of peo­ple who have died.