Know before you go: Kangaroo Island Wilderness Trail
---
---
Plan­ning to hike the Kan­ga­roo Island Wilder­ness Trail – Fire Recov­ery Expe­ri­ence? Be pre­pared with these tips.
---
The first days of autumn her­ald the start of the walk­ing sea­son, so what bet­ter time than now to think about your next big hike?
Enter the Kan­ga­roo Island Wilder­ness Trail (KIWT) – Fire Recov­ery Expe­ri­ence, one of South Australia's most spec­tac­u­lar mul­ti-day walks.
Span­ning 75 kilo­me­tres at the west­ern end of South Australia's Kan­ga­roo Island, the trail gives vis­i­tors the oppor­tu­ni­ty to expe­ri­ence the beau­ty of Flinders Chase Nation­al Park, as well as the after­math of the 2019 – 20 sum­mer bush­fires that rav­aged this nation­al park.
The fires burnt through more than 200,000 hectares on the island, includ­ing 96 per cent of Flinders Chase (and the adjoin­ing Ravine des Casoars Wilder­ness Pro­tec­tion Area), and the entire­ty of the KIWT and its asso­ci­at­ed infrastructure.
But in the spir­it of restora­tion and regen­er­a­tion, the trail is being brought back to life – now rebadged as the KIWT – Fire Recov­ery Experience.
Under­stand­ably it's a dif­fer­ent expe­ri­ence now, but it's one that offers vis­i­tors a unique chance to notice the impacts of the dev­as­tat­ing bush­fires and see panoram­ic vis­tas the fires have unveiled. Plant life is bounc­ing back, turn­ing the land­scape green again.
Big Heart Adven­tures were the first walk­ers to com­plete the KIWT – Fire Recov­ery Expe­ri­ence in Decem­ber 2020. Check out their blog or watch their video.
The KIWT – Fire Recov­ery Expe­ri­ence does not include on-trail camp­ing or accom­mo­da­tion, so you will com­plete the trail as a series of day walks, and have the lux­u­ry of a hot show­er and soft bed each night!
If you're plan­ning to take a walk on the wild side, here are some tips that will make your expe­ri­ence as safe and enjoy­able as possible:
1. Plan your trip
All walk­ers must book their KIWT – Fire Recov­ery Expe­ri­ence through a licenced tour oper­a­tor.
Trav­el­ling with a tour oper­a­tor pro­vides a safe and easy way to access the trail. There are a range of options to suit every­one. For those that pre­fer to go it alone, choose an oper­a­tor that will pro­vide dai­ly trans­fers between the trail and your near­by accom­mo­da­tion. If you're after a lot more sup­port, con­sid­er a ful­ly escort­ed tour from Adelaide.
Book your trip well in advance. Depend­ing on the pack­age you book through your licenced oper­a­tor, you may also need to arrange your accom­mo­da­tion, trans­port by air or sea, and trans­fers to and from your accommodation.
Study maps and route guides ahead of the walk. Your licenced tour oper­a­tor will pro­vide you with all the infor­ma­tion you need to walk the trail, such as maps and updates on weath­er conditions.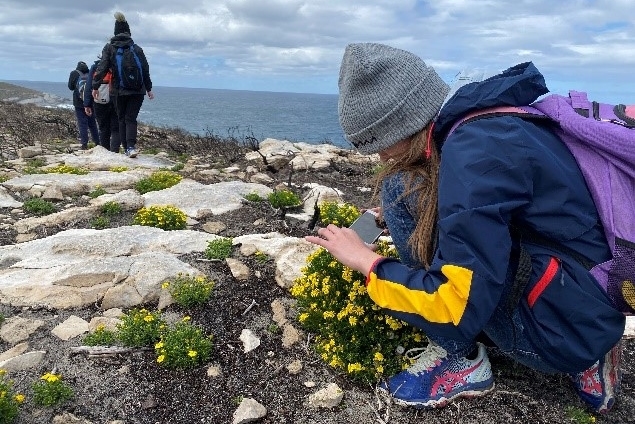 2. Watch where you walk
Make sure you look where you're walk­ing while you're on the KIWT – Fire Recov­ery Expe­ri­ence. This spe­cial expe­ri­ence deserves your full atten­tion. Slow down and look close­ly. Look down to see tiny seedlings emerg­ing, look around for signs of wildlife such as echid­na and goan­na dig­gings, and look back at how far you have come.
Also, make sure to record any wildlife that you spot. Record­ing your obser­va­tions allows sci­en­tists to track species and plan con­ser­va­tion activities.
The trail weaves amongst rock, stretch­es of beach and for­est, so it's impor­tant that you're wear­ing sup­port­ive footwear and are pre­pared to encounter a mix of surfaces.
While on the trail, don't wor­ry about step­ping on plants! The foot traf­fic of walk­ers will help keep the veg­e­ta­tion regrowth down along the trail. Of course, take care not to stray from the trail, as this will give the envi­ron­ment the best chance to recover.
3. Know your limits
A rea­son­able lev­el of fit­ness is required to walk the trail. You can expect to walk between 3.5 to 7 hours a day.
The amount of time it takes to walk each sec­tion will also depend on your fit­ness lev­els, weath­er con­di­tions, how much weight you are car­ry­ing, and how long you stop to take in the scenery, check out the wildlife, and rest breaks.
As you will not be camp­ing on the trail, you won't need to car­ry a heavy pack, so if you've ever want­ed to do the KIWT but have been daunt­ed by the phys­i­cal chal­lenge, now is a great time to tick it off your buck­et list.
Plus, the slow­er you go, the more you will notice!
For your own safe­ty, be will­ing to seek assis­tance if the walk is more dif­fi­cult than expected.
4. Not for the young ones
The five-day trail is not rec­om­mend­ed for lit­tle peo­ple under the age of ten, due to the long dis­tances that need to be trav­elled, exposed coastal envi­ron­ment and change­able weath­er conditions.
How­ev­er, as the KIWT – Fire Recov­ery Expe­ri­ence is a series of day walks, check with our licenced tour oper­a­tors about walk­ing one of the eas­i­er sec­tions with your family.
5. Be prepared
Pack cloth­ing and equip­ment to suit change­able weath­er con­di­tions. Take plen­ty of snacks and ensure you car­ry suf­fi­cient water while you're on the trek (there is no water avail­able along the trail). Your licenced tour oper­a­tor may pro­vide equip­ment and cater­ing, so check with them about what you need to pack.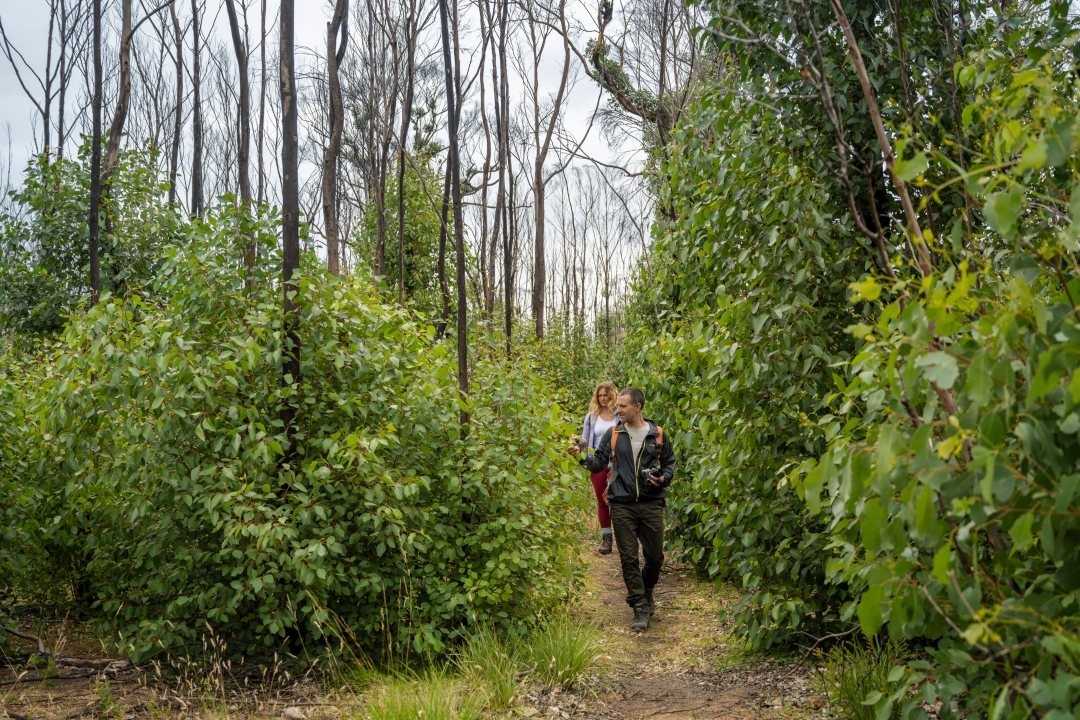 6. Shar­ing the experience
Walk with a com­pan­ion or a num­ber of friends wher­ev­er pos­si­ble. The trail is such a mem­o­rable expe­ri­ence – why not share it with your near­est and dearest?
7. Be aware of the weather
The best time to go is from March to Novem­ber, how­ev­er every sea­son on Kan­ga­roo Island offers some­thing dif­fer­ent, so you're sure to have an amaz­ing expe­ri­ence when­ev­er you visit!
Kan­ga­roo Island's weath­er is vari­able year-round, and changes in tem­per­a­ture and con­di­tions can occur sud­den­ly and with­out much warn­ing giv­en the island's exposed loca­tion. You're like­ly to expe­ri­ence a bit of every­thing on your walk – sun­shine, wind and rain.
Depend­ing on the con­di­tions, you may need to change or adapt your itin­er­ary. It's a good idea to check the Bureau of Mete­o­rol­o­gy for the lat­est weath­er updates.
For more infor­ma­tion on the Kan­ga­roo Island Wilder­ness Trail – Fire Recov­ery Expe­ri­ence, vis­it the web­site.
This sto­ry was orig­i­nal­ly post­ed in Sep­tem­ber 2016, and has been updat­ed with new information.
---
This con­tent was pro­duced in part­ner­ship with Good Living
Subscribe to get more insider tips delivered to your inbox each month