Sneak peek: the new nature play space coming to Adelaide's southern suburbs
---
---
The nature play area at Glen­thorne Nation­al Park-Itya­mai­it­pin­na Yarta is going to be epic. Here's how it might look
---
Imag­ine your­self walk­ing through the beau­ti­ful open spaces of the Glen­thorne Nation­al Park-Itya­mai­it­pin­na Yarta's vis­i­tor hub towards South Australia's newest Nature Play Precinct.
Pic­ture tall tree sculp­tures ahead of you and chil­dren play­ing with rock fos­sils at the fos­sil dig log table.
Imag­ine no more – the con­cept images for Glen­thorne Nation­al Park-Itya­mai­it­pin­na Yarta's new vis­i­tor hub and Nature Play Precinct have been released, giv­ing vis­i­tors a sneak peek of what might be in store.
Locat­ed in Adelaide's south­ern sub­urbs, 17 km from the CBD, the park has been cre­at­ed to revi­talise a large area of exist­ing open space into a thriv­ing envi­ron­men­tal and recre­ation­al precinct.
At the moment you can use the park's walk­ing and moun­tain bik­ing trails (O'Halloran block only at this stage), but work is now under­way to cre­ate what's sure to be one of its biggest draw­cards – the impres­sive Nature Play Precinct. Oh, and the vis­i­tor hub in gen­er­al is pret­ty spe­cial too and will be the gate­way to the broad­er park where walk­ing trails will be established.
But back to the nature play part. The whole fam­i­ly will enjoy a heap of fun fea­tures, includ­ing a maze walk, tree tow­er and an obsta­cle course with acces­si­ble ele­ments includ­ed, amongst oth­er major attractions.
Here's what it might look like: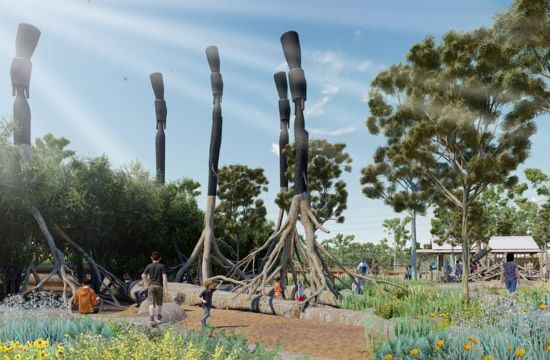 Tree sculp­tures with inter­pre­ta­tion sto­ries to reflect bird spirits.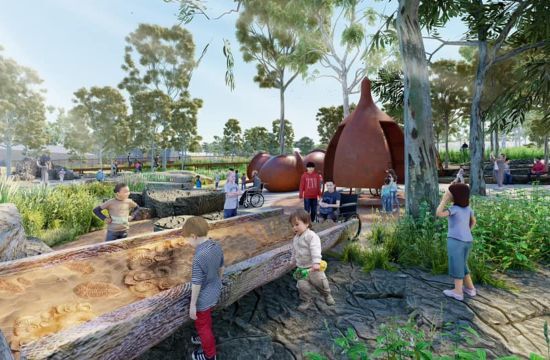 Rock fos­sils for etch­ing and rub­bing at the fos­sil dig log table.
Mean­while the broad­er vis­i­tor hub will have plen­ty of green, open space for peo­ple to enjoy, with fea­tures such as a restored creek line, walk­ing trails, her­itage area, and plen­ty of gums and his­toric pine trees.
Here's a taste of what these works could look like: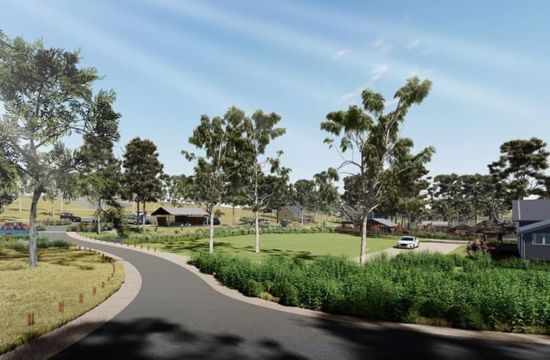 The her­itage barn area.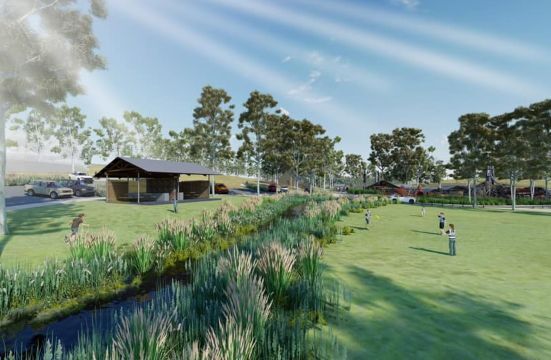 Restored creek line and large grass area, as well as an event space to the right.
Now just remem­ber, these con­cept images are just to give you a visu­al of what the park's nature play space and vis­i­tor area could look like. So don't take these as gospel – all sorts of things in the design and con­struc­tion process will be tak­en into account to devel­op the actu­al space.
Con­struc­tion of these sites is expect­ed to begin in the next cou­ple months. Can't wait for this Nature Play Space to open? In the mean­time, check out5 nature play spaces to enjoy in South Australia's nation­al parks and gardens.
Note: The Nature Play Precinct, is a joint ini­tia­tive between the state gov­ern­ment and City of Marion.
---
This con­tent was pro­duced in part­ner­ship with Good Living
Subscribe to get more insider tips delivered to your inbox each month