12 national park trails near Adelaide that are accessible with wheelchairs
Looking for wheelchair-friendly trails in national parks? Try these options in and around Adelaide.
There's lots of beautiful walks in Adelaide's national parks, but if you rely on a wheelchair to get around, then convenient parking, flatter surfaces, and facilities like toilets are important things to consider.
We've taken the guesswork out of it for you with this list of wheelchair-friendly accessible walks in national parks around Adelaide – and some of the handy facilities nearby:
South
1. Wood Duck Walk – Belair National Park
Belair National Park's Wood Duck Walk starts at the carpark and picnic area at Playford Lake, where there's one dedicated accessible parking space. An accessible toilet is close by, across Sir Edwin Avenue.
The majority of the trail is bitumen, with a few short sections of hard-packed gravel.
In places, the edge of the bitumen path has broken away and there are occasional ripples in the surface from tree roots underneath.
Some parts of the path may require assistance. The trail is best to be completed in a clockwise direction.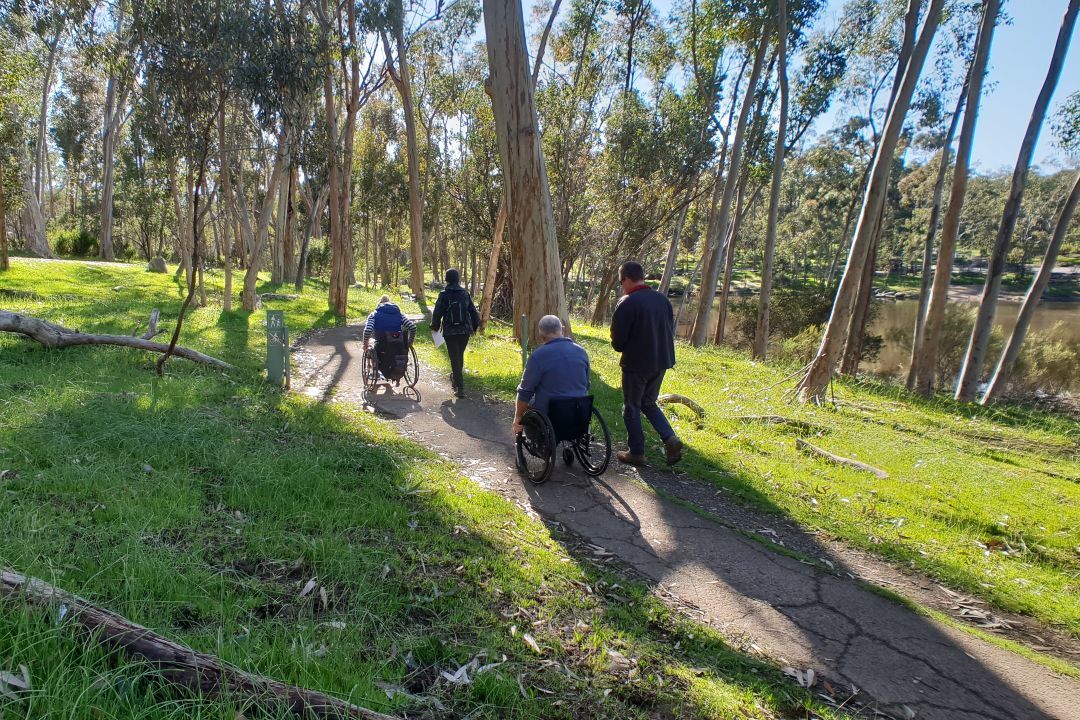 2. Lorikeet Loop Walk – Belair National Park
Also in Belair National Park is the Lorikeet Loop Walk, another wheelchair-accessible trail.
Park in the accessible carpark in the Government Farm 2 carpark and follow the signs for Lorikeet Loop along the mostly bitumen trail.
It's recommended to start the walk from Old Government House and travel in an anti-clockwise direction.
Sections of the trail are short and steep and other sections are rough, so assistance may be required.
The end part of the trail climbs through the adventure playground and back up to Old Government house. This section is steep and will require assistance.
There's also an accessible toilet in the Government Farm 2 area.
3. Sir Edwin Avenue and Brady Gully Track – Belair National Park
The Sir Edwin Avenue and Brady Gully Track in Belair National Park is another good option for wheelchair accessibility.
To get there, head to the Playford Lake carpark and follow the bitumen Sir Edwin Avenue as it gradually climbs to the north of Playford Lake. Some assistance may be required on the ascent.
As the road levels out, pass to the right of the barrier that goes across the road blocking access to cars.
About 200 m up the road you will come to an information board on the right-hand side. To the right of the information board you will see a trail sign that indicates a shared trail. This is the trail to take to return to Playford Lake.
The trail has a hard base with loose gravel on the surface. Sections of it have loose gravel and other parts are sandy, so some assistance may be required. This trail is about 1.7 km.
4. Black Cliff Lookout – Hallett Cove Conservation Park
Hallett Cove Conservation Park's bitumen path from the Boatshed Café towards Black Cliff Lookout is a great scenic trail that is suitable for people in wheelchairs.
The trail steepens considerably (up to 12%) on the way up, so assistance will be required to get up to the lookout.
The trail beyond the lookout is not an accessible trail, however you can stop and take in the view at the top.
There are two accessible carparks, and an accessible toilet at the Boatshed Café.
5. Botanical Trail – Marino Conservation Park
Head to Marino Conservation Park and enter the carpark at the end of Nimboya Road in Marino.
While there is one accessible carpark available, there are no toilets in this park.
The Botanical Trail is 1.4 km return and offers some of Adelaide's best views of the coast and city skyline.
The trail is a mix of hard-packed surface and loose dirt, and it's recommended to do the trail on a dry day as parts of it will become very muddy when wet.
Along the way, there's an accessible picnic spot where you can stop for a scenic lunch.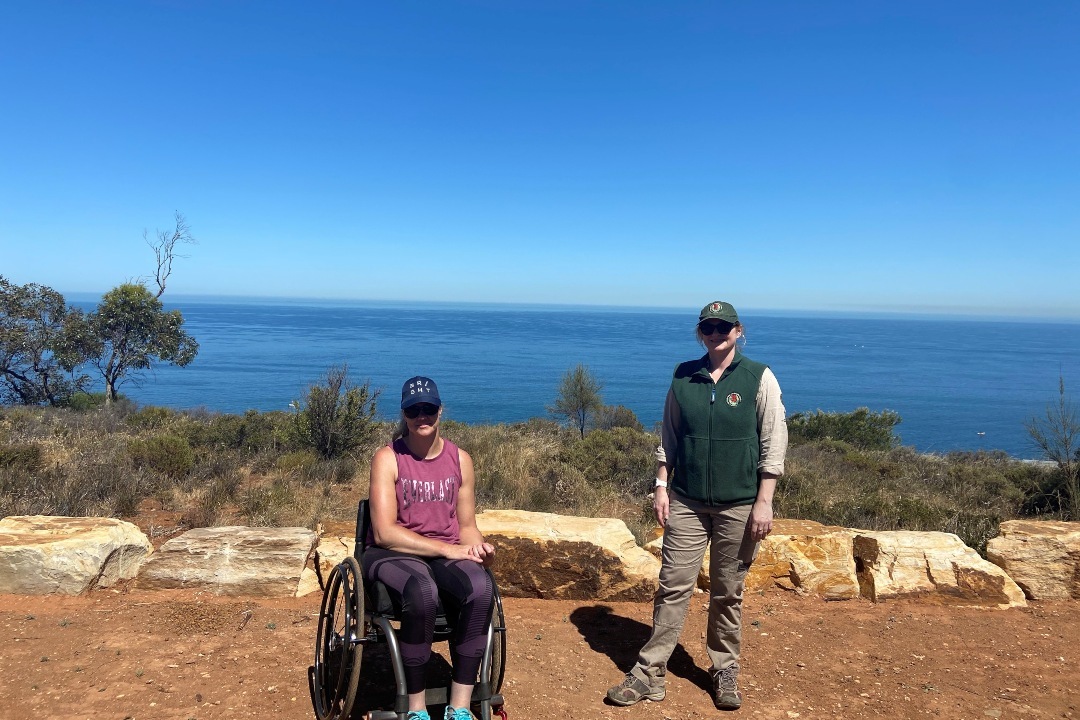 6. Wetlands Loop Trail – Onkaparinga River Recreation Park
The Wetlands Loop trail in Onkaparinga River Recreation Park is a flat trail with a mixture of boardwalk and gravel paths.
There is an accessible carpark and toilet at Perrys Bend, with a dedicated access path to the Wetlands Loop Trail as well as a lovely picnic area with a BBQ and picnic tables. It is recommended to do this trail on a sunny day, as the gravel paths may become muddy in winter.
7. Punchbowl Lookout Trail – Onkaparinga River National Park
For spectacular views of Onkaparinga Gorge, check out the 2 km Punchbowl Lookout Trail in Onkaparinga River National Park.
Descend the wide, hard-packed trail to the lookout where there are a number of picnic benches. Return via the same trail but note that it climbs 50 m over the space of 1 km.
The easiest spot to park is at Gates 8 and 9 on Piggot Range Road, and you'll find toilets at the nearby Sundews Lookout at Gate 11.
East
8. Morialta Falls Valley Walk – Morialta Conservation Park
The 1.6 km Morialta Falls Valley Walk at Morialta Conservation Park is a good, short walk on a wide, hard-packed gravel trail that rises gently and reaches just below First Falls.
The last section goes below the falls via a boardwalk.
Sections of the trail have short inclines and, as it's a Class 2 trail, some people may require assistance.
There are two accessible carparks and one accessible toilet at the trail head.
9. Fourth Creek Trail – Morialta Conservation Park
Also in Morialta Conservation Park is the Fourth Creek Trail, which is a 3 km round-trip.
There is a short incline near the start of the trail, just beyond the Mukanthi Playspace and after the footbridge.
The first half of the trail is compacted gravel and the second half is bitumen, both about 1 m wide.
10. Steub Trail – Cleland National Park
The 7 km return Steub Trail in Cleland National Park is an excellent alternative to the ever-popular Waterfall Gully to Mount Lofty Summit Hike, and you should allow about 3 to 5 hours for wheelchair users.
You can start the trail from either the bottom, at Cleland Wildlife Park, or the top, at Mount Lofty Summit.
Starting from the bottom
At the bottom end, the path starts at the entrance to Cleland Wildlife Park – not far from the administration building. There are two accessible carparks available at Cleland Wildlife Park, as well as an accessible toilet.
The track surface is a hard base with a recycled product called 'bitumate' on the top, which makes for a nice, smooth ride.
The first 500 to 700 m is relatively flat and easy, but after this the trail starts to climb. At this point, most people will require assistance to get up the inclines.
At points along the path, there are switch-backs with berms which have a pitch that's difficult to navigate in a wheelchair, but doable with assistance.
Starting from the top
There are two options if you're starting from the top:
Park in the Mount Lofty Summit accessible parks located with the service carparks. The start of the path is made of slab rocks, so follow it around and down the hill.
Park in the carpark next to the entrance to the Heysen trail. This carpark is quite large and suitable for people who use wheelchairs, but there are no dedicated accessible carparks. Just across from this carpark space is the beginning of the Steub trail. The trail from here generally has gentle inclines and switch-backs with gentle pitching berms that are easy to navigate and a lot of fun to go down. Assistance is required to get back up the hill – even with the gentler slopes.
There is one accessible toilet inside the Mount Lofty Summit café and gift shop.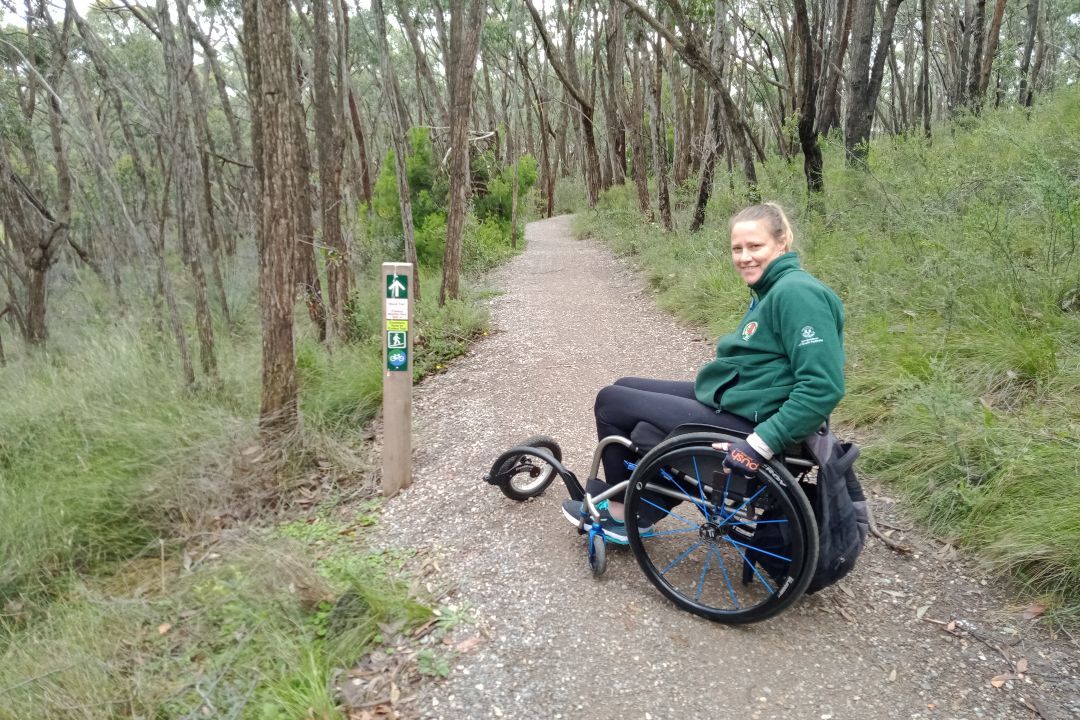 North
11. Lake Discovery Loop – Para Wirra Conservation Park
The Lake Discovery Loop at Para Wirra Conservation Park is a 1 km trail.
It's recommended to start from the East Lake carpark and follow the well-signposted trail in a clockwise direction.
The trail loops around the lake on a hard-packed gravel trail with a few slight rises that may require some assistance.
You'll find accessible toilets at Gawler View picnic area, Wirra Campground picnic area and Para Wirra Central picnic area.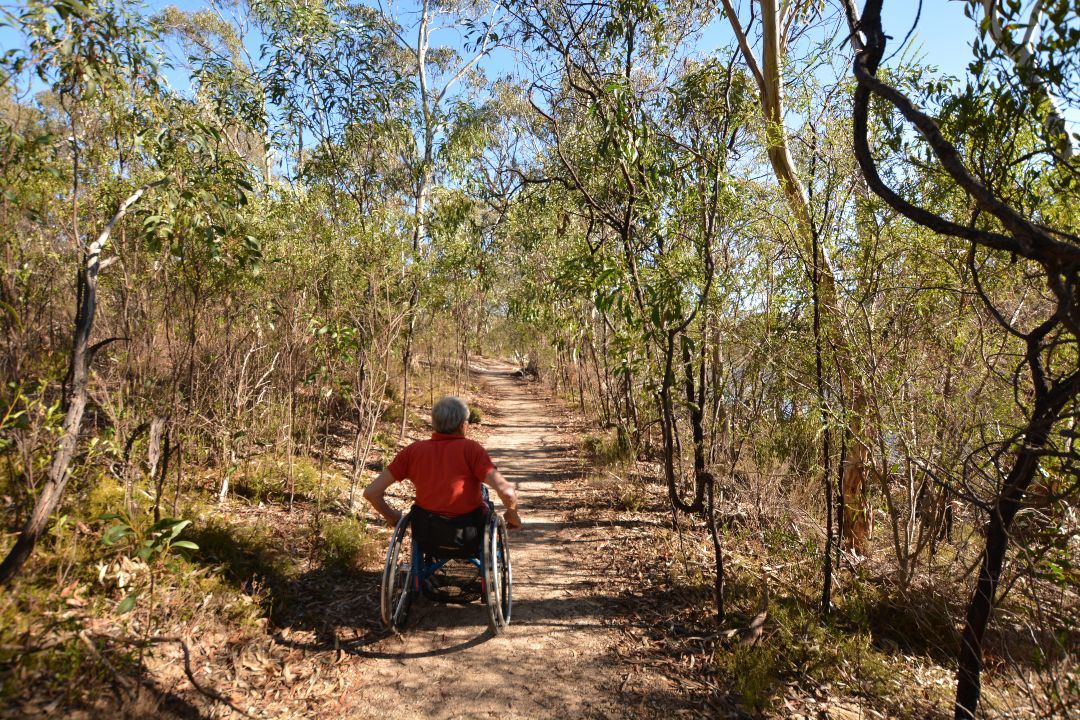 12. Little Quarry Loop – Anstey Hill Recreation Park
The Little Quarry Loop starts at Anstey Hill Recreation Park's main carpark in the former quarry, and winds its way around in a 650 m concrete loop.
You can find accessible parking spaces at Gate 1 near Ellis Cottage, and the toilets are right next door – one is accessible.
Interested to know about other national parks with accessible features? Read our story aboutAdelaide parks with accessible featuresorregional parks with accessible features.
This story was originally posted in March 2021.
Comments
Log in to Disqus, Facebook, Twitter or Google to make a comment. If you would prefer not to log in you can still make a comment by selecting 'I'd rather post as a guest' after entering your name and email address.
This commenting service is powered by Disqus. Disqus is not affliated with the Department for Environment and Water