Upgrades at metropolitan Adelaide parks
Improv­ing vis­i­tor access to pop­u­lar nation­al parks
Work is under­way to give vis­i­tors eas­i­er access to some of Adelaide's most pop­u­lar nation­al parks.
This includes increased car park­ing capac­i­ty at key sites, improv­ing the vis­i­tor expe­ri­ence and improv­ing vis­i­tor safety.
Upgrades are now com­plete at Mark Oliphant Con­ser­va­tion Park in the Ade­laide Hills, in progress at Cham­bers Gul­ly – the pop­u­lar entrance point to the Cle­land Nation­al Park trail net­work – and in progress at Mori­al­ta Con­ser­va­tion Park in Adelaide's east.
Find out more about these works, includ­ing a snap­shot of the upgrades and esti­mat­ed deliv­ery timelines.
Works at Mori­al­ta Con­ser­va­tion Park
Nes­tled 8 km east of Ade­laide, Mori­al­ta Con­ser­va­tion Park is home to the pop­u­lar Mukan­thi Nature Play Space, which was opened in 2017.

The new nature play space rapid­ly drew in the crowds, putting pres­sure on the car park locat­ed adja­cent to the site and forc­ing vis­i­tors' vehi­cles to spill onto neigh­bor­ing streets.
To cater for the park's extra vis­i­tors, South Aus­tralian Gov­ern­ment fund­ing will enable a tem­po­rary car park (known as the over­flow car park) locat­ed near the Mukan­thi Nature Play Space to be for­malised, sealed and con­nect­ed to the exist­ing sealed car park on Strad­broke Road.
This will cre­ate one large sealed car park that occu­pies the foot­print of the two exist­ing car parks (the sealed car park and the over­flow car park), but recon­fig­ured to max­imise the num­ber of vehi­cles it can accommodate.
The new car park will have approx­i­mate­ly 100 clear­ly marked car park spaces, a des­ig­nat­ed bus drop-off and pick-up space, one entry dri­ve­way and 2 exit driveways.
New walk­ing paths from the car park will pro­vide safer access for vis­i­tors to the nature play space and beyond.
The car park foot­print has been care­ful­ly designed to min­imise unnec­es­sary impact on the sur­round­ing veg­e­ta­tion, how­ev­er a small amount of veg­e­ta­tion will be removed as part of the con­struc­tion works. DEW ecol­o­gists have select­ed 1650 local native plants to reveg­e­tate the car park precinct as part of the project.
A builder has been select­ed to under­take the project and works will begin from 1 August. The con­struc­tion process is expect­ed to be com­plete in December.
While works are under­way park­ing will be extreme­ly lim­it­ed, and we strong­ly rec­om­mend that you instead vis­it one of our oth­er near­by metro parks, such as Cle­land Con­ser­va­tion Park or Belair Nation­al Park.
While con­struc­tion is under­way vis­i­tors to Mukan­thi play space must park at the Resource Cen­tre or along Mori­al­ta Falls Road, or in per­mit­ted areas in near­by streets. Pedes­tri­an access will remain unchanged oth­er than exclu­sions in place around the con­struc­tion site, and the Fourth Creek trail will not be affect­ed. Nation­al Parks and Wildlife Ser­vice rangers and Coun­cil staff will mon­i­tor street park­ing and work to min­imise the impact to near­by res­i­dents and park visitors.
We ask all vis­i­tors who choose to park on near­by streets to exer­cise safe­ty pre­cau­tions when cross­ing the road on their way to and from the park and to be care­ful not to obstruct the dri­ve­ways of local res­i­dents when park­ing their vehicles.
Vis­i­tors may also choose to use pub­lic trans­port to trav­el to the park.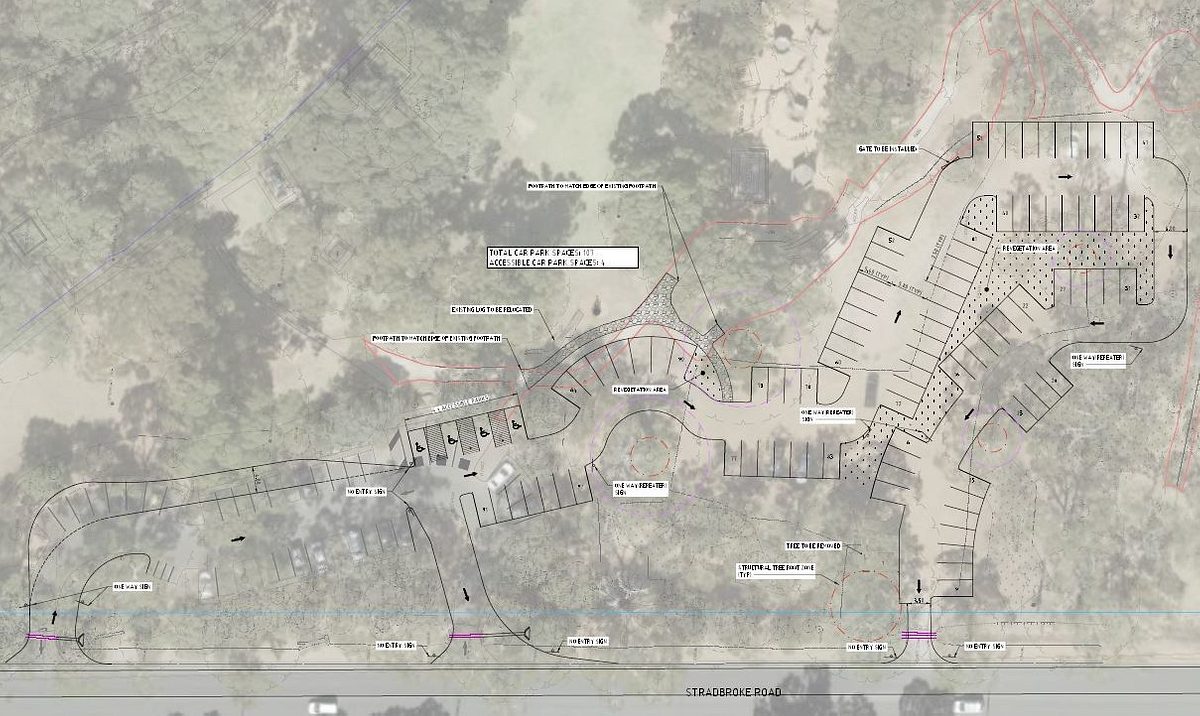 Snapshot of upgrades
A single sealed car park that accommodates 100 vehicles plus bus loading zones

New walking paths to provide safer access to the Mukanthi Nature Play Space
Estimated project timeline
November 2021

Designs to be complete

March - April 2022

Works to be tendered

Early August 2022

Construction works estimated to commence

December 2022

Estimated project completion
Note: this time­line is sub­ject to change as the project progresses.
Works at Mark Oliphant Con­ser­va­tion Park
An increase in vis­i­ta­tion at Mark Oliphant Con­ser­va­tion Park in the Ade­laide Hills in recent years has seen a greater demand on park­ing near the Scott Creek Road entrance at Longwood.
This prompt­ed a range of upgrades to this entrance, includ­ing expand­ing and recon­fig­ur­ing the car park area to cater for approx­i­mate­ly 20 vehicles.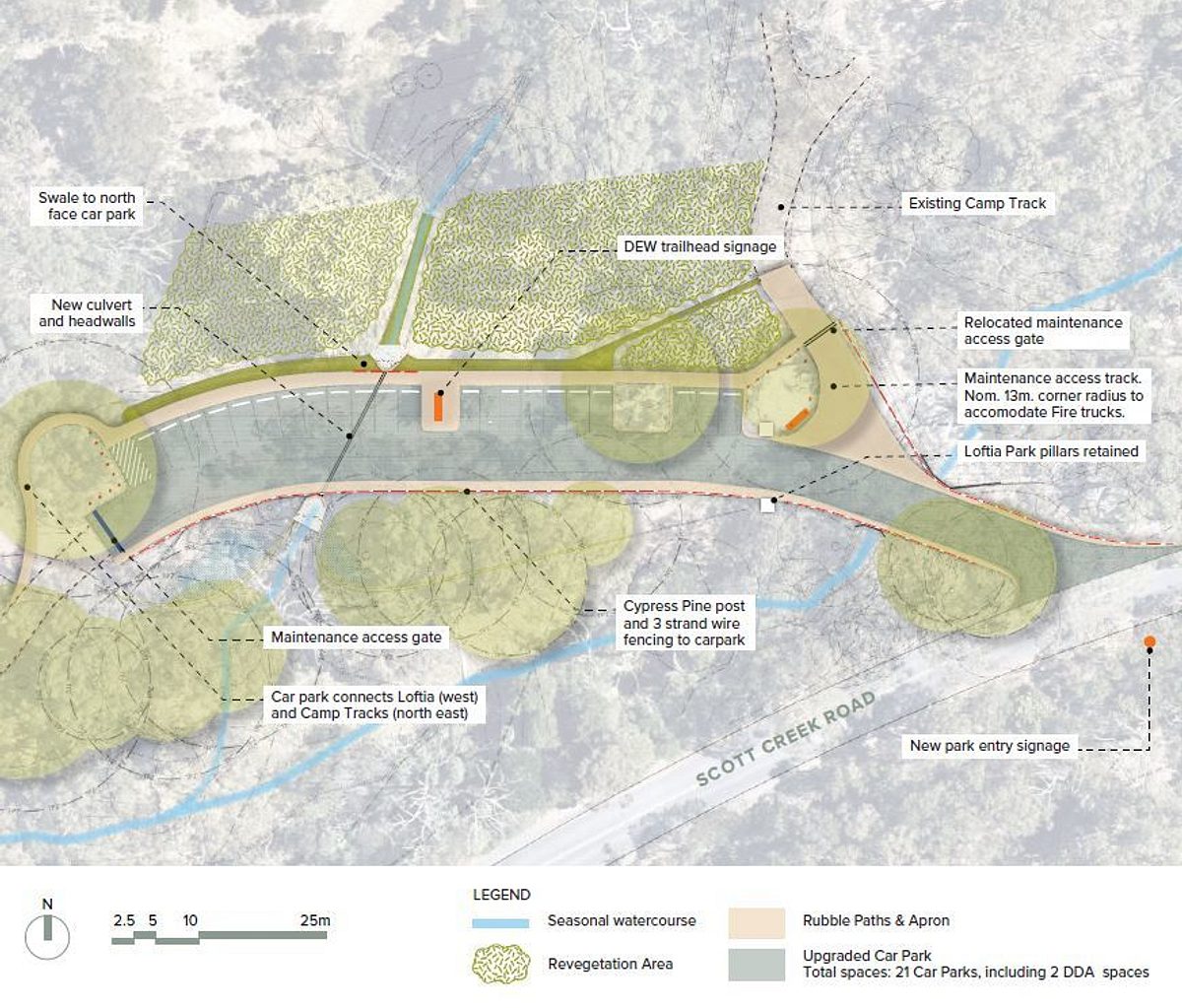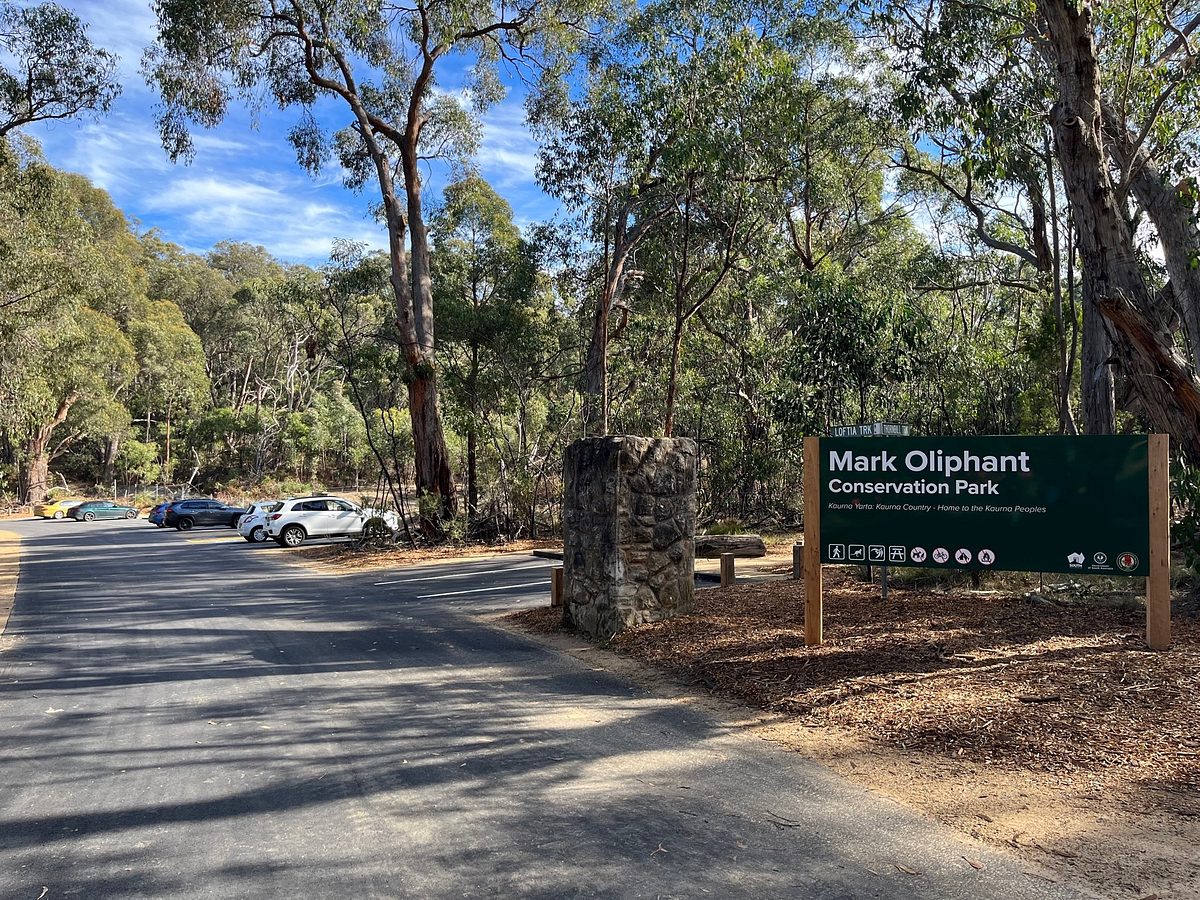 The near­by pic­nic shel­ter was refur­bished and a new pic­nic table has also been installed. A short, acces­si­ble path has also been con­struct­ed to link the car park to the pic­nic area.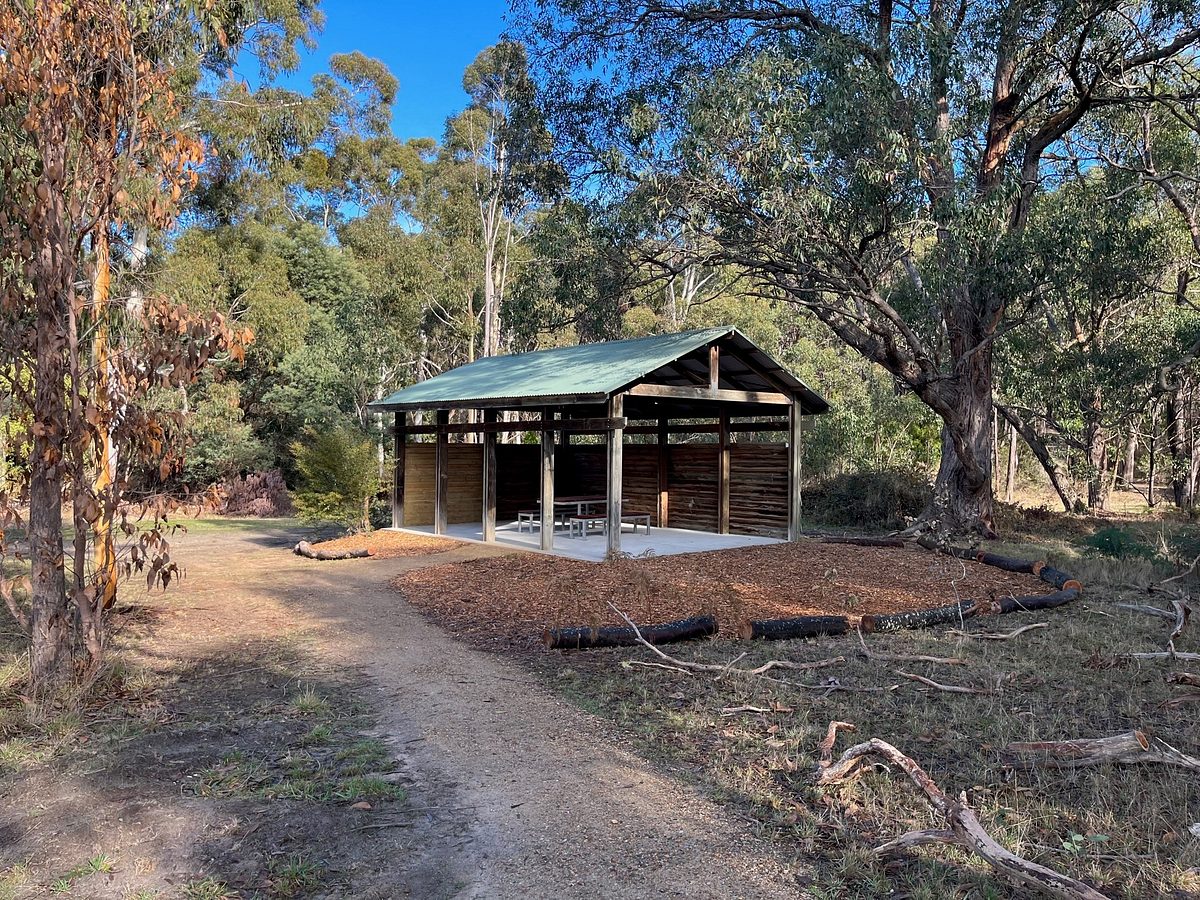 Park entry sig­nage has also been improved to pro­vide a more wel­com­ing street pres­ence, and new trail­head sig­nage and improved wayfind­ing sig­nage was also installed.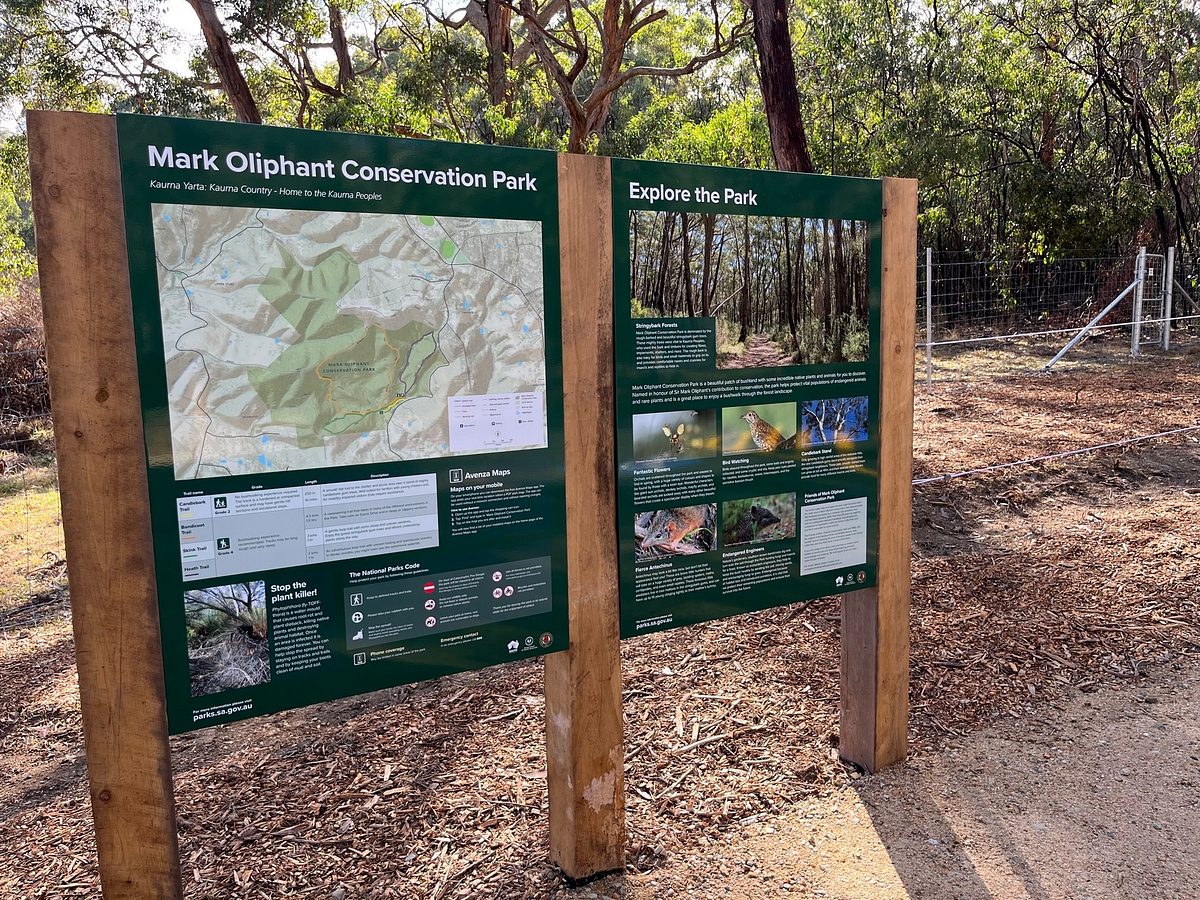 Snapshot of upgrades
Extra car park spaces to accommodate 20 vehicles

Improved trail signage and park entry signage

Refurbished picnic shelter and new picnic table

New accessible path linking the car park and picnic area
Estimated project timeline
October 2021

Designs to be completed

November 2021

Works to be tendered

January 2022

Construction works to commence

April 2022

Project complete and open to the public
Works at Cham­bers Gully
Cham­bers Gul­ly in the foothills of Ade­laide is the start­ing point for many of the walk­ing trails in Cle­land Nation­al Park.
Work is now under­way to pro­vide extra park­ing and addi­tion­al vis­i­tor facil­i­ties at this pop­u­lar spot.
The car park area is being recon­fig­ured to bet­ter use the avail­able space, with wheel­stops, fenc­ing and oth­er bar­ri­ers also being installed.
Two pic­nic bench­es will also be installed at the site and a new trail­head and wayfind­ing signs will be erect­ed along the walk­ing trail.
Snapshot of upgrades
Reconfigured car park area

Improved trail signage
Estimated project timeline
December 2021

Designs complete

End of June 2022

Works due for completion
Subscribe for updates about these projects
Con­tact us
For more infor­ma­tion about the Com­mu­ni­ty Access to Nation­al Parks project, con­tact the project team.